Home / All Recipes / Japanese / Anmitsu
Anmitsu (あんみつ) is a popular Japanese dessert consists of small cubes of agar-agar served with freshly cut fruits, anko (sweet red bean paste), and kuromitsu (black sugar syrup). Adding a scoop of ice cream, mochi, or dango are also very popular. As you can imagine, this is very popular during hot summer days. The best part is an anmitsu recipe can have endless variation, so be sure to experiment to come up with your very own favorite version.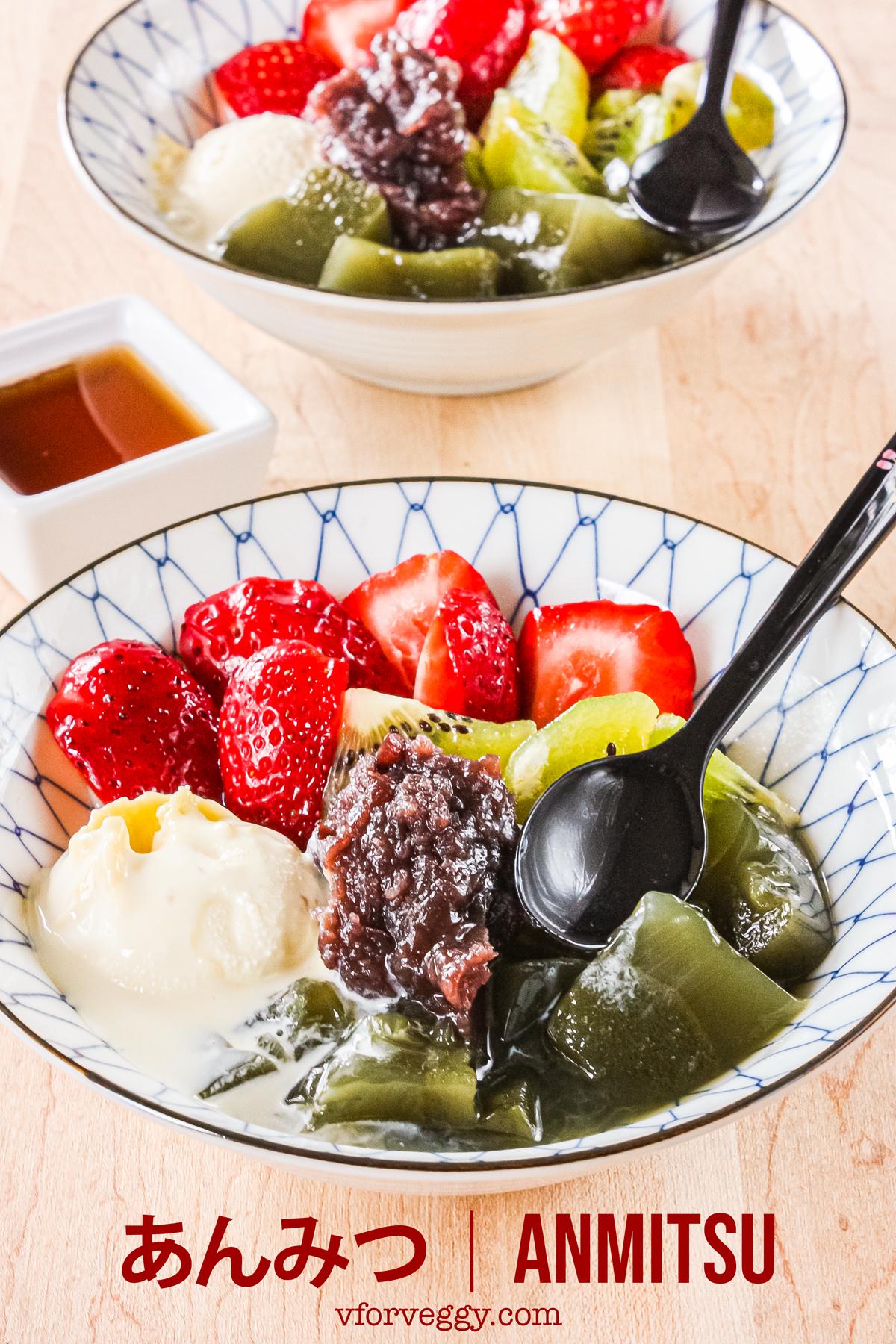 What should I add to make anmitsu?
There is no set rule to what makes an anmitsu, but here are what I usually include:
kanten (agar-agar) cubes; I added some matcha to make matcha agar-agar, but you can keep it plain if you wish since it is actually more traditional that way.
anko (red bean paste); I follow this recipe to make anko, but feel free to use store-bought anko for convenience.
kuromitsu (black sugar syrup); This can be rather tricky to get a hold of outside Japan, but in a pinch, this can be easily substituted by boiling together 200 gram brown sugar and 100 ml water into a honey/maple syrup consistency.
fresh fruit; I use fresh strawberries and fresh kiwis, you can use any of your favorite fruit. Other popular fruit include mikan (tangerine), pineapple, berries, peaches, and cherries.
ice cream; One scoop of your favorite ice cream, even plain vanilla is very nice in an anmitsu.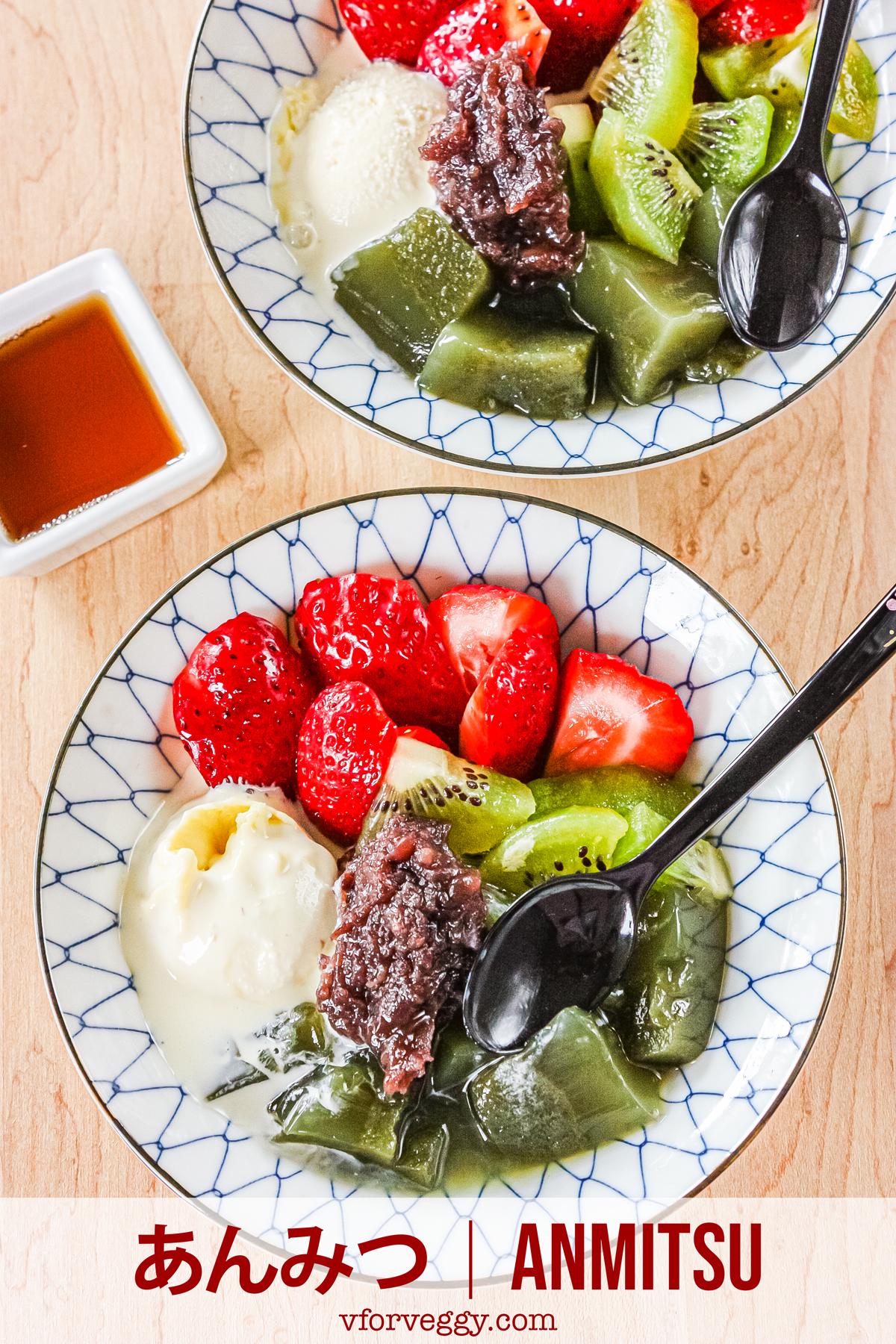 Anmitsu
5.0 from 5 reviews
Ingredients
Matcha agar-agar
1/2 tablespoon matcha
1 tablespoon hot water
4 gram agar-agar/kanten powder
500 ml (2 cups) water
4 tablespoon sugar
Other ingredients
4 scoop vanilla ice cream (skip for vegan, or use vegan friendly ice cream)
4 tablespoon anko (Japanese sweet red bean paste)
slices of fresh fruit (e.g. strawberries, kiwis, mandarins, peaches)
kuromitsu (use substitute recipe below if needed)
Kuromitsu
200 gram brown sugar
100 ml water
Instructions
Matcha agar-agar

Dissolve matcha with hot water into a thick paste, set aside.
In a sauce pot, whisk together agar-agar and 500 ml water. Bring to a rolling boil, then reduce heat slightly and add sugar. Turn the heat off, then add matcha paste and whisk until well mixed.
Pour into a 8" square baking dish. Chill in the fridge to set the agar-agar, about 30 minutes.
Cut into small cubes (about 1/2" cubes).

Kuromitsu (if you cannot buy ready made kuromitsu)

Boil together brown sugar and hot water.
Reduce heat to a simmer and keep cooking until syrup thickens (like honey/maple syrup consistency).
Turn the heat off, and store in glass jar.

Anmitsu

Divide matcha agar-agar into 4 serving bowls.
In each bowl, add 1 scoop ice cream, 1 tablespoon anko, and slices of fresh fruits.
Serve with kuromitsu.