Home / All Recipes / Chinese / Braised Tofu and Shiitake
Braised Tofu and Shiitake
Braised tofu and shiitake is one of the most traditional Chinese home dish. Each family typically has their own variation, and this time I am making it into a vegetarian dish using of mushroom sauce instead of oyster sauce, and the using mushroom stock granules instead of chicken stock or chicken stock granules.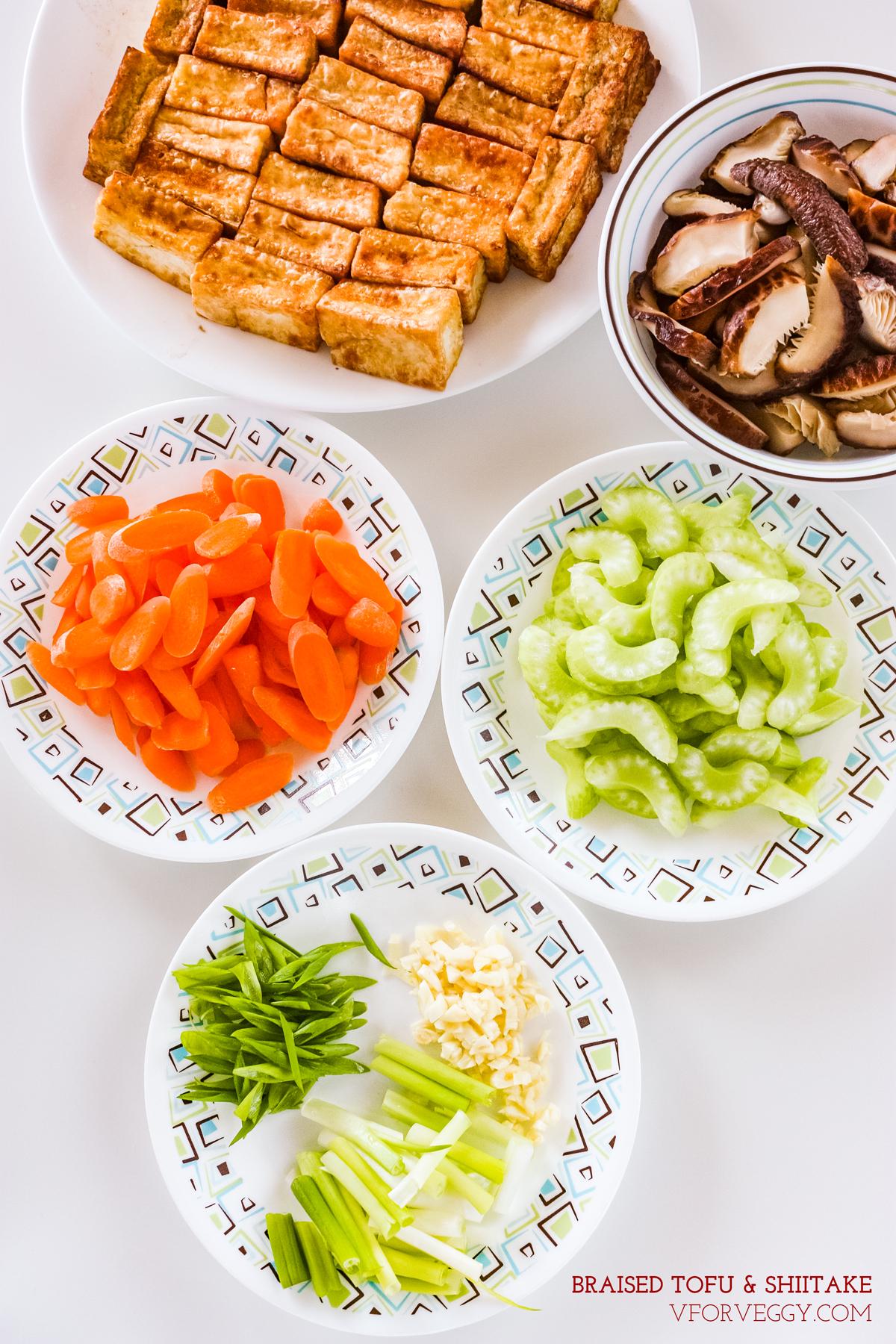 If you have access to Asian groceries, you most likely can get your tofu already fried, just remember to soak them for a while in hot boiling water to remove excess oil and drain. If that is not an option, you can do what I do, press two blocks of firm tofu to remove as much water as possible from them (I usually do this by wrapping tofu with paper towel, then sandwiching it between 2 plates, and place a heavy objects such as a cast iron skillet on top of the plate for up to 1 hour, there will be a pool of water by the end of it as proof that enough water has been drained out from the tofu), cut each block into 16 pieces. Next, I lightly dust each piece of tofu with either all purpose flour or corn starch, and pan fry on a non-stick frying pan or a well seasoned cast iron skillet until golden brown.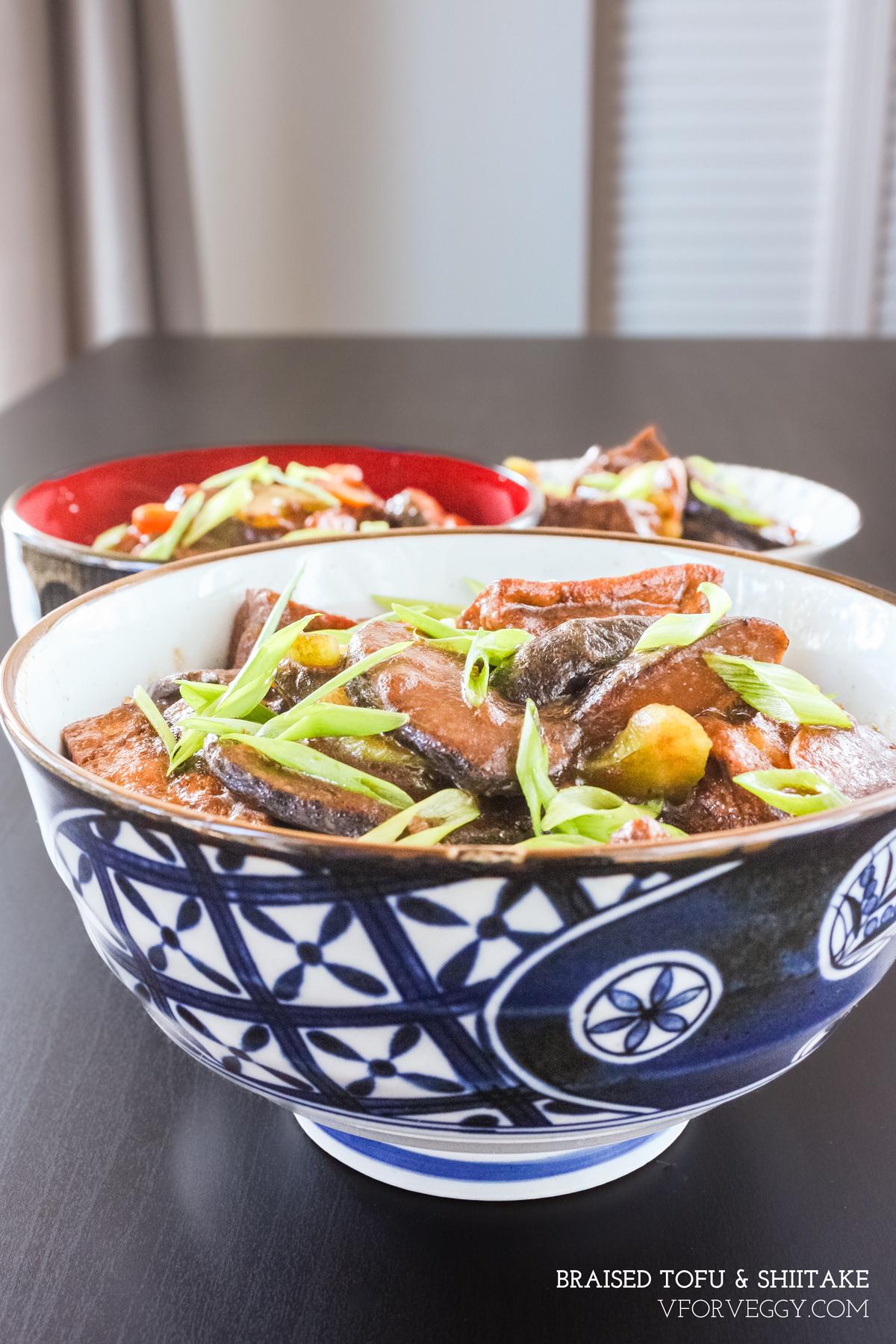 For this dish, it is best if you use dried shiitake and re hydrate them by soaking overnight in plenty of water. I find dried shiitake to be much more flavorful compared to fresh ones, plus the soaking water can be used as mushroom stock instead of using water. It is okay to leave out carrot and celery if that is not your thing, they are more of a side kick in this dish, so totally okay to just use tofu and shiitake. Or you can switch with other colorful vegetables such as sugar snap peas, green beans, broccoli florets, or bell pepper. For festive occasions, you can make cute floral patterns with carrot. Here, I simply thinly slice my carrot and celery :)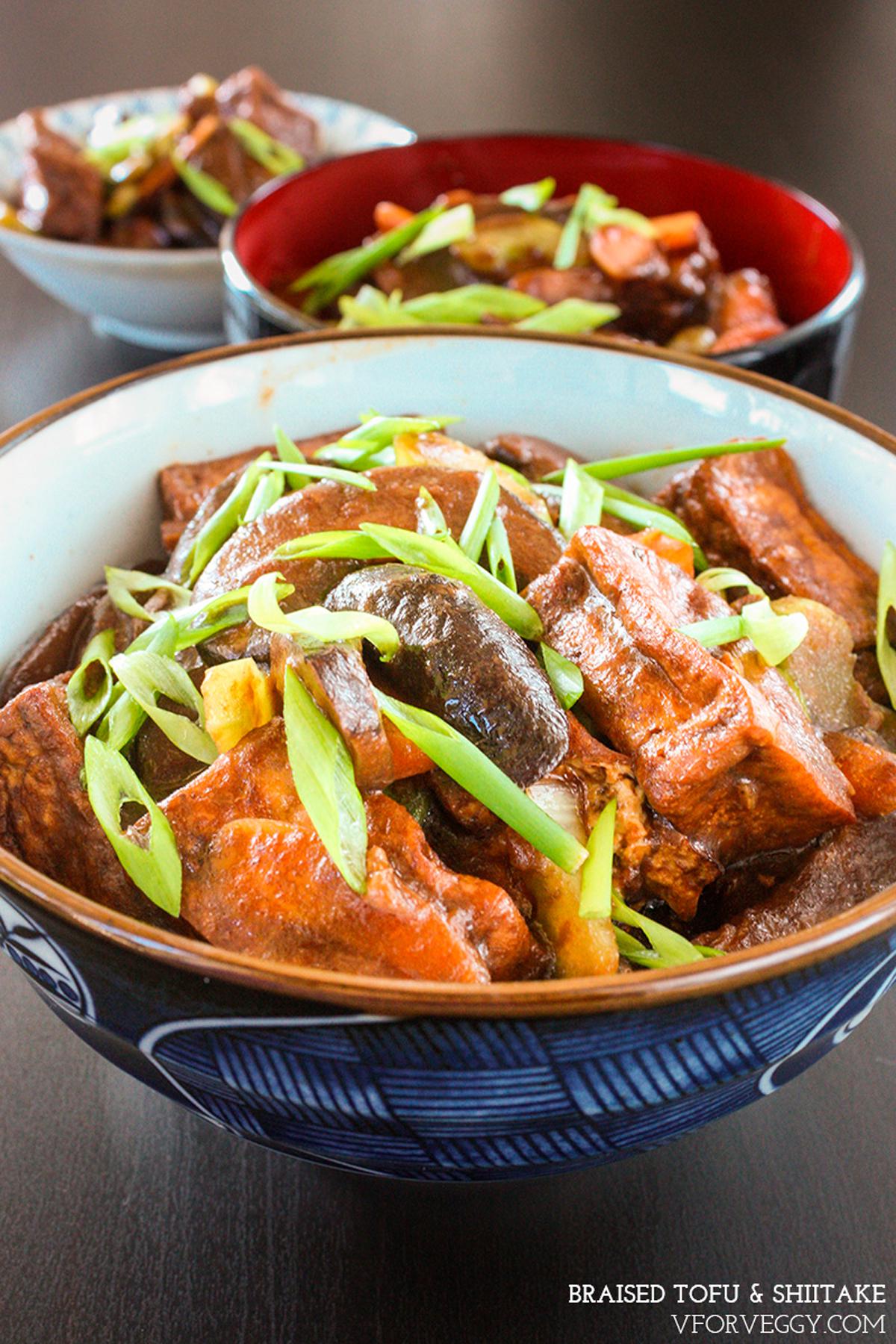 Braised Tofu and Shiitake
5.0 from 1 reviews
Ingredients
8-10 medium size dried shiitake
2 block firm tofu (about 400 gram each)
all purpose flour/corn starch, for dusting (*)
3 tablespoon oil
4 cloves garlic, minced
4 scallions, cut white part into 1" sections, thinly slice the green part
1 cup thinly sliced carrot
1 cup thinly sliced celery
1 tablespoon corn starch + 4 tablespoon water, mix well
Sauce
2 cups shiitake soaking water
2 tablespoon mushroom sauce
2 tablespoon dark soy sauce
1 teaspoon mushroom stock granules/salt
Instructions
Soak dried shiitake in plenty of water (about 3 cups) overnight. Once the mushrooms are soften and fluffy, squeeze out water from them, remove the stems, and cut the caps into thin slices. Don't throw away the soaking water, we will use it as mushroom stock in the sauce.
Drain water from tofu by wrapping each block with paper towel. Sandwich tofu blocks between two plates (or two cutting boards), and place a heavy object such as a cast iron skillet on top of the plate (or cutting board), and let water drain out from the tofu for 1 hour. Once drained, cut each block of tofu into 16 pieces.
Heat 3 tablespoon oil in a non-stock frying pan or a well-seasoned cast iron skillet on medium heat. Dust each piece of tofu with all purpose flour or corn starch, and fry tofu until golden brown. Set aside.
Make sure there is about 1 tablespoon of oil left in the pan/skillet. Turn heat on medium-high, and sauté garlic and white part of scallions until fragrant, about 2-3 minutes.
Add shiitake and fried tofu into the pan and mix well.
Add all the sauce ingredients to the pan and stir. Bring to a boil. Then reduce heat to a simmer, cover the pan, and cook for 30 minutes.
Remove the pan. Turn heat back to medium-high. Add carrot and celery and cook for 1 minute.
Add corn starch solution to the pan, stir and cook until the sauce thickens.
Turn off heat, place on serving plate(s) and garnish with the green part of scallions.
Notes
(*) Use corn starch for a gluten-free dish.