Home / All Recipes / Chinese / Butternut Mantou
Mantou (馒头) or Chinese steam buns are usually white, but since I prefer my all purpose flour to be unbleached, I know they are not going to end up white, so I thought I might as well purposefully add color to them by incorporating some butternut squash puree and make them look bright yellow instead. I really love how the final result looks, I think I am going to start using other puree when making mantou from now on to make them colorful.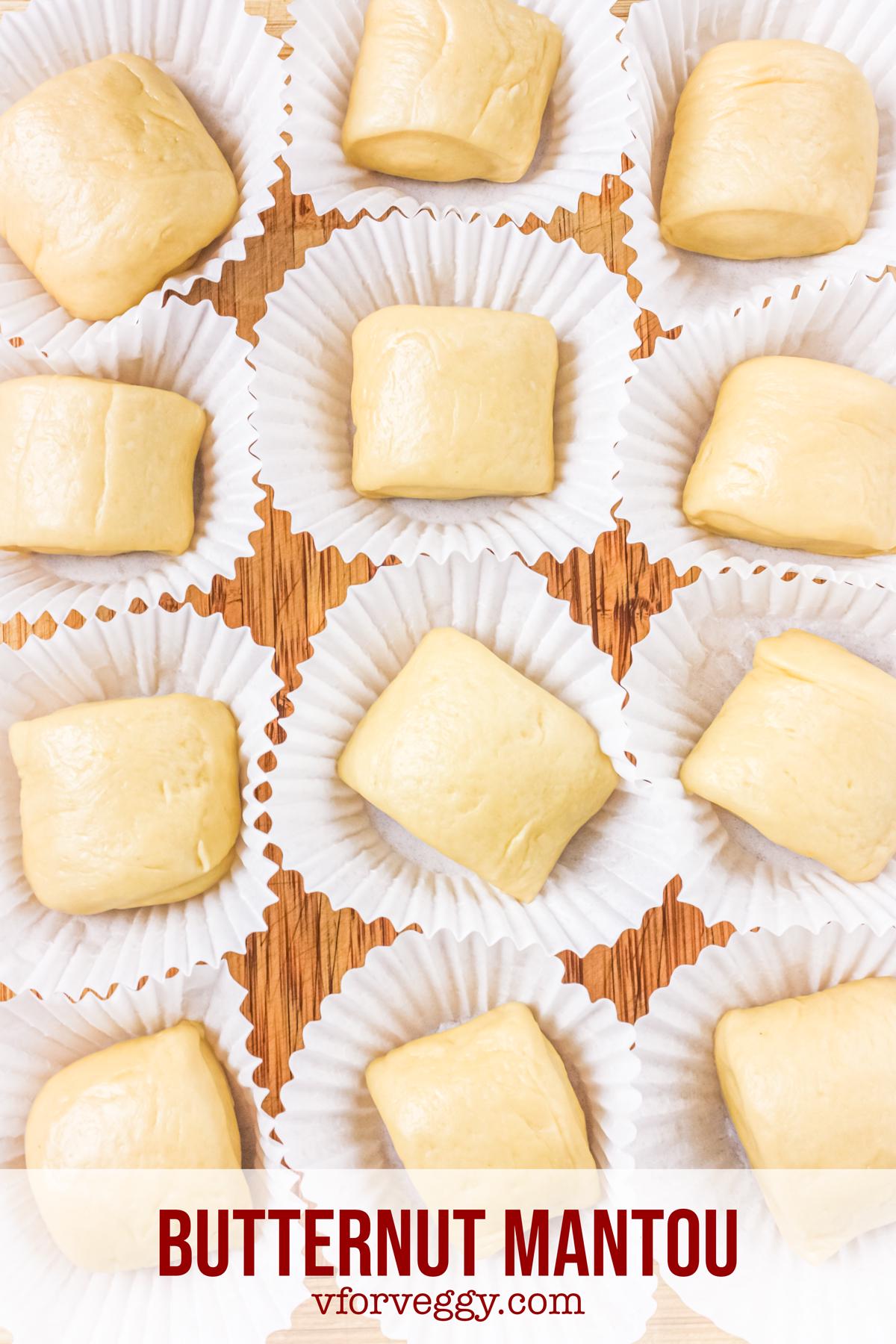 Maybe some of your have never heard of mantou before, but if you have tried char siew bao, or other filled steam buns in dim sum, then mantou is just the bun part minus the filling. Chinese love to eat these for breakfast or snack, plain, with a little bit of spread, or when fancy strikes, we use the bun like hamburger bun, i.e. sandwich some lovely meat, vegetables, and sauce in the bun and call it a meal. Since the buns are steamed, you will need a steamer for this. A big steamer with multi tier is best when preparing a large batch, but in a pinch, you can place a small heat proof plate in a wok/large pan, top with hot boiling water, and place another big steam proof plate with your to-be-steamed mantou on the big plate, placed the top plate on top of the small plate, cover the wok/pan, and steam. Or if your rice cooker come with a steamer insert, you can use that as well.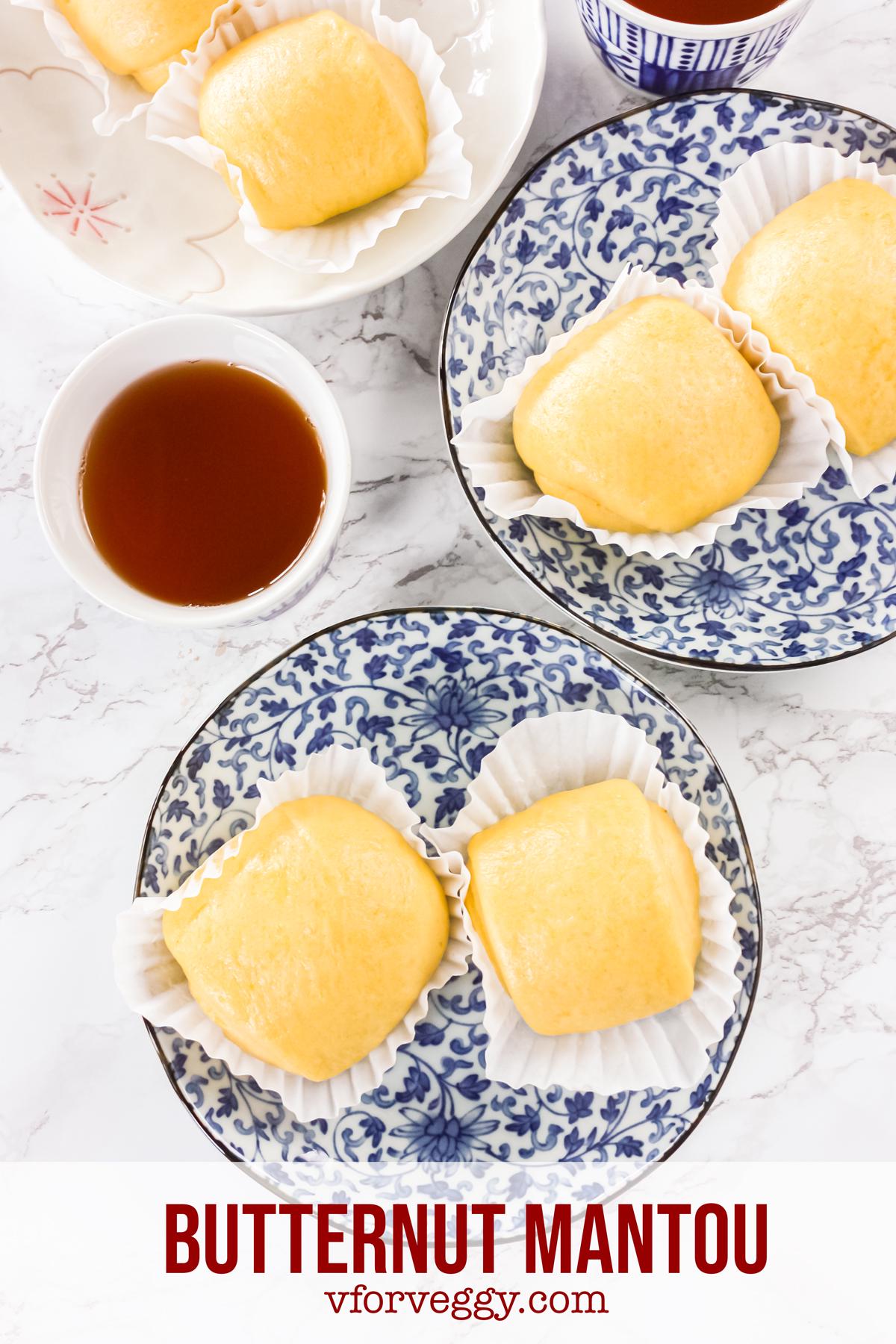 You can make multiple batches since they freeze well. Once cooked, let them cool to room temperature, then place in a freezer zip lock bag, and freeze. To reheat, you can either microwave, or better yet, steam again until soft and fluffy. If you like this bun, you can also fill them with sweet filling such as red bean paste or egg custard, or savory filling such as char siew or ground pork. Just remember to down it with a cup of good Chinese tea ;)
Butternut Mantou
Ingredients
75 ml (5 tablespoon) warm water (37 Celsius/100 Fahrenheit)
1/2 tablespoon active dry yeast
1/2 teaspoon sugar
250 gram all purpose flour
4 tablespoon sugar
1/8 teaspoon salt
75 gram butternut squash, cooked and pureed
4 tablespoon unsalted butter/lard/oil, room temperature (*)
Instructions
Place warm water in a bowl, sprinkle with active dry yeast, and 1/2 teaspoon sugar. Stir. Let it rest for 20 minutes until foamy.
In another bowl, whisk together all purpose flour, sugar, and salt. Make a well at the center, then add in butternut squash puree, yeast solution, and butter/lard/oil. Knead into a smooth, elastic, non-sticking dough. You may need to add 1-2 tablespoon of flour if it is too sticky. Kneading time is about 20 minutes.
With the dough inside a mixing bowl, cover the bowl with a saran wrap. Let it proof until the volume is doubled, about 1 hour.
Prepare a steamer.
Punch the proofed dough to release air bubbles, knead again 2 minutes. Divide the dough into 3 equal portions.
Use a rolling pin to roll each portion of the dough into a rectangle (about 5" x 8"). Roll on the long side from bottom to top like rolling a towel into a log. Cut the log into 4 pieces, each 2" long. Repeat for the other 2 portions. You should get a total of 12 pieces.
Place each piece of dough on a cup cake liner (or a 3" square parchment paper).
Steam on high heat for about 15 minutes. Turn off the heat. Do not open the steamer lid, and let the buns rest in the covered steamer for another 5 minutes.
Gently remove the steamer lid so no liquid drops on the buns (you can also wrap the lid with a large kitchen cloth before steaming). Serve the steamed buns hot with a cup of hot tea.
Notes
(*) Use oil if you are a vegan.