Home / All Recipes / Chinese / Easy Chinese Tofu & Vegetables Stir Fry
Easy Chinese Tofu & Vegetables Stir Fry
This easy Chinese tofu & vegetables stir fry is a quick and delicious meal, and I am sure even omnivores will love the dish.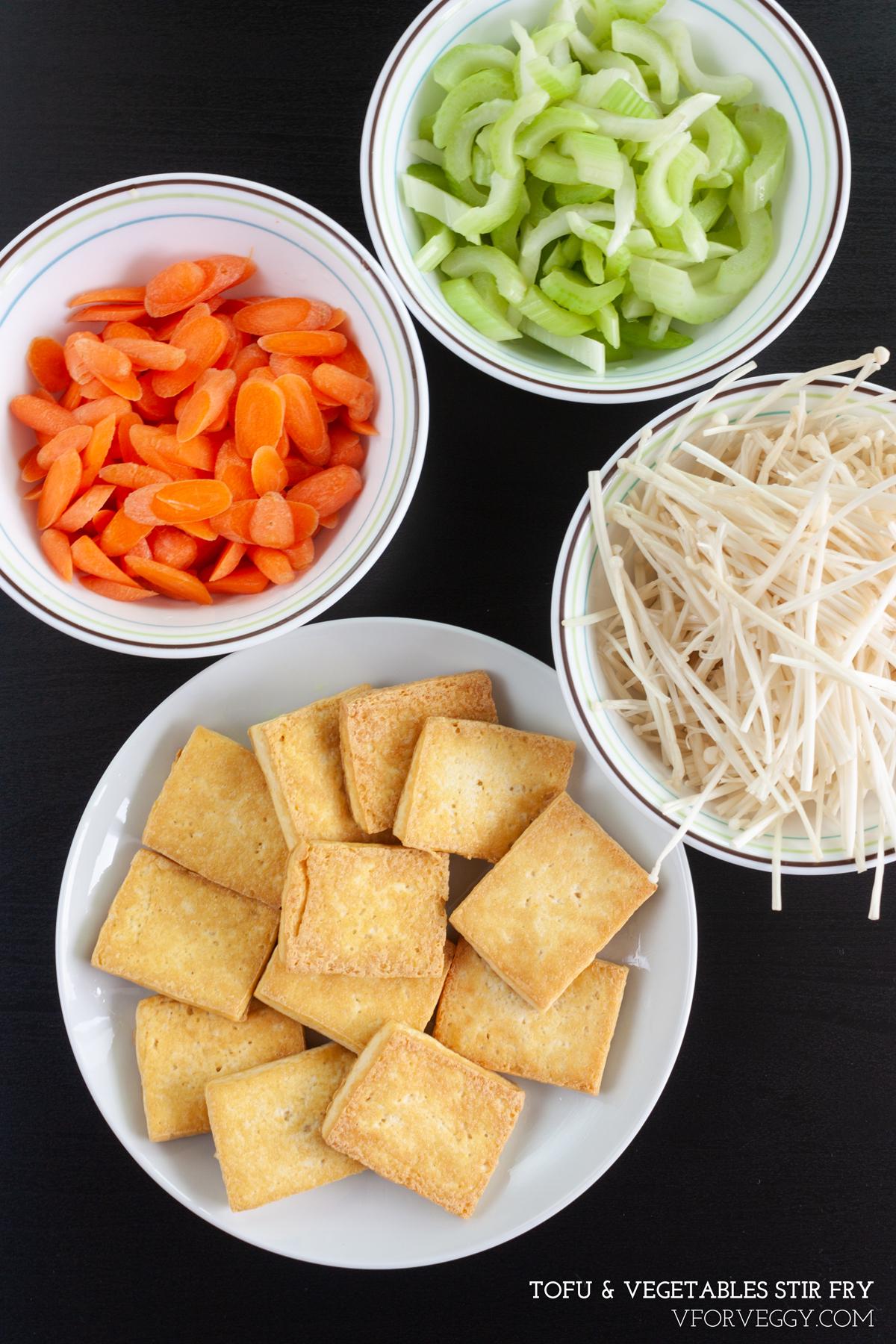 Pan fried tofu
I use a block of firm tofu, drained really well, then cut into 12 pieces, and pan fried on my cast-iron skillet. If you can find fried tofu triangles (or cubes) in your Asian market, you can use that too. Just make sure the total weight is 1 pound (450 gram).
Assortment of vegetables
I use carrots, celery, and enoki in this recipe. You can pretty much use any vegetables you have. Some of my favorites include broccoli, cauliflower, common white button mushroom, shiitake mushroom, oyster mushroom, wood ear mushroom, and sugar snap peas.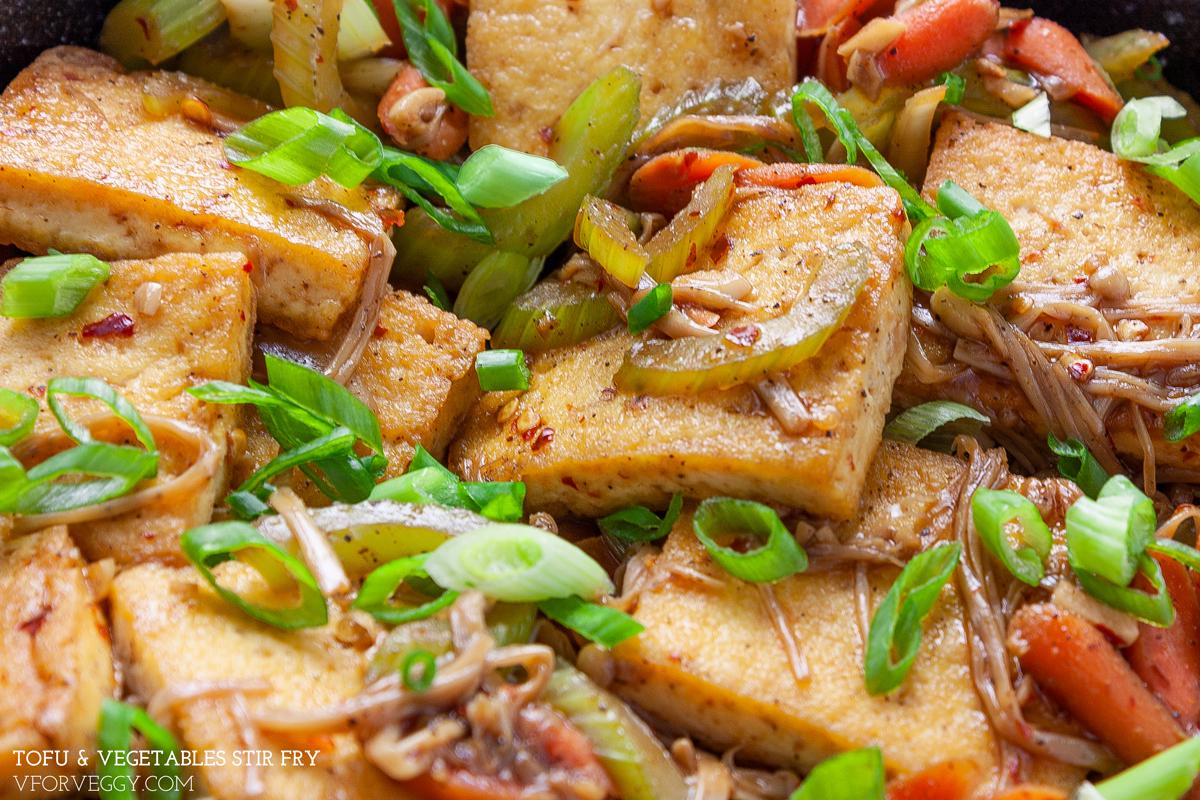 The recipe: easy Chinese tofu & vegetables stir fry
Easy Chinese Tofu & Vegetables Stir Fry
5.0 from 1 reviews
Ingredients
1 lb (450 gram) firm tofu block
4 tablespoon oil
3 cloves garlic, minced
1 lb (450 gram) total of mixed vegetables (carrots, celery, enoki mushroom), thinly sliced
1-2 teaspoon crushed red pepper flakes
2 tablespoon mushroom sauce (*)
1 tablespoon soy sauce
2 tablespoon Shaoxing wine (or sake)
1/2 teaspoon ground pepper
1 teaspoon sugar
1-2 scallions, thinly sliced (for garnish, optional)
Instructions
Drain tofu really well, and cut into 12 pieces.
Heat a cast-iron skillet over medium-high heat until the pan is hot, then lower to a medium. Add oil to the pan, and arrange tofu on the pan. Let the tofu sit undisturbed for 3-4 minutes, they should self-release and have a golden brown skin. Flip to the other side, again let it sit for another 3-4 minutes. Remove the tofu from the pan and set aside.
If you have about 1 tablespoon of oil remaining on the pan, no need to add oil, otherwise, add a bit of oil. Sauté garlic until fragrant, about 1 minute.
Add vegetables and red pepper flakes. Cook for about 2-3 minutes, or until vegetables start to soften a little.
Season with mushroom sauce, soy sauce, Shaoxing wine, ground pepper, and sugar. Once the sauce bubbles, return fried tofu to the pan and gently toss to coat.
Turn off heat, add sliced scallions, and serve with steamed white rice.
Notes
(*) Mushroom sauce is vegan/vegetarian version of oyster sauce. Should be easily found in most Asian markets.