Home / All Recipes / Indonesian / Gudeg - Indonesian Jackfruit Stew
Gudeg - Indonesian Jackfruit Stew
The most famous jackfruit dish in Indonesia is gudeg. Originated from Central Java, gudeg - Indonesian jackfruit stew is a must have when you visit the city of Jogjakarta. If you can get a hold of canned young jackfruit in your Asian market, do give this recipe a try :)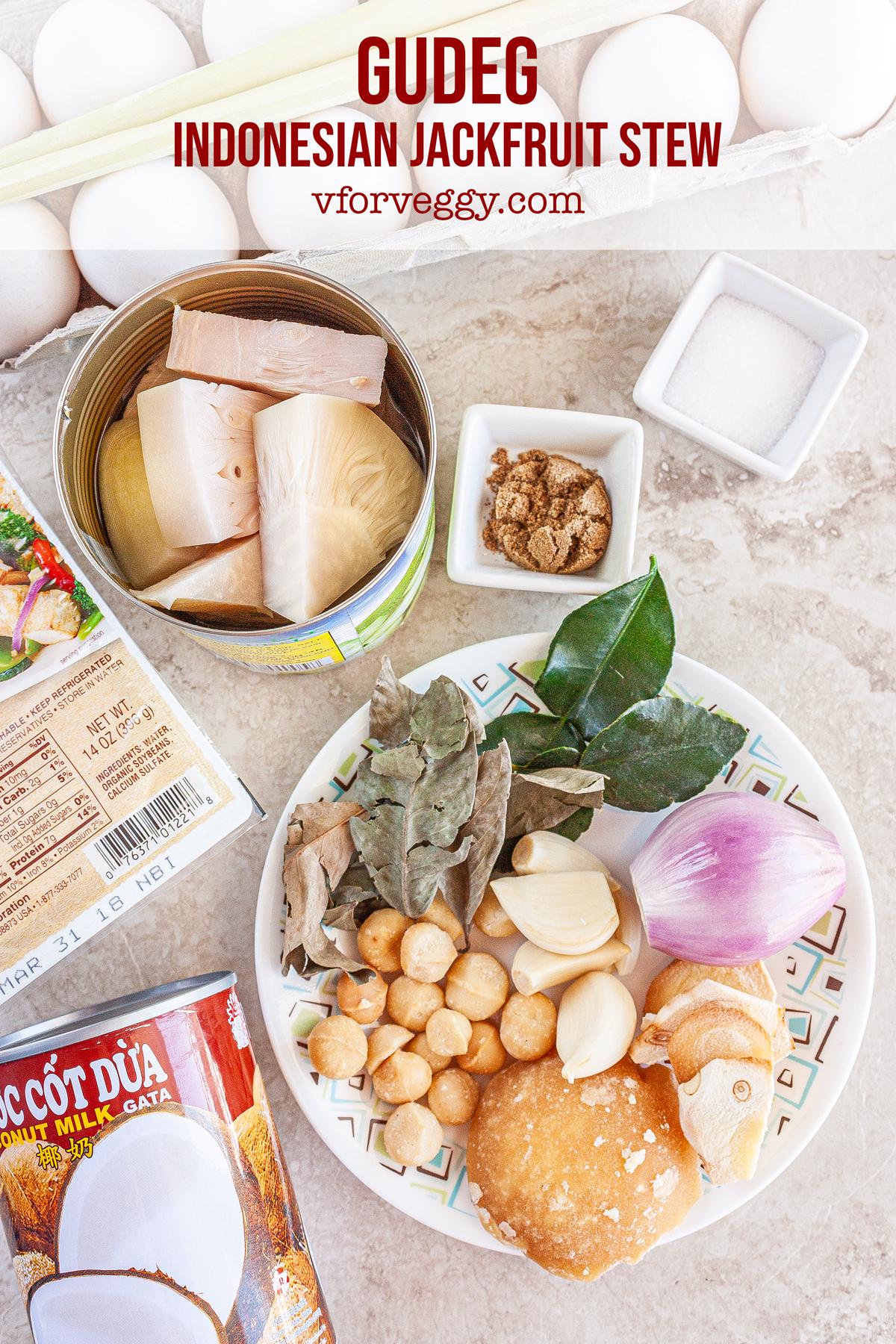 Some must haves and some nice to haves
The basic of gudeg is of course young jackfruit meats and hard boiled eggs. It is also very common to add chicken pieces in a gudeg dish. Since we are going for a vegetarian friendly dish, I am using fried tofu cubes instead.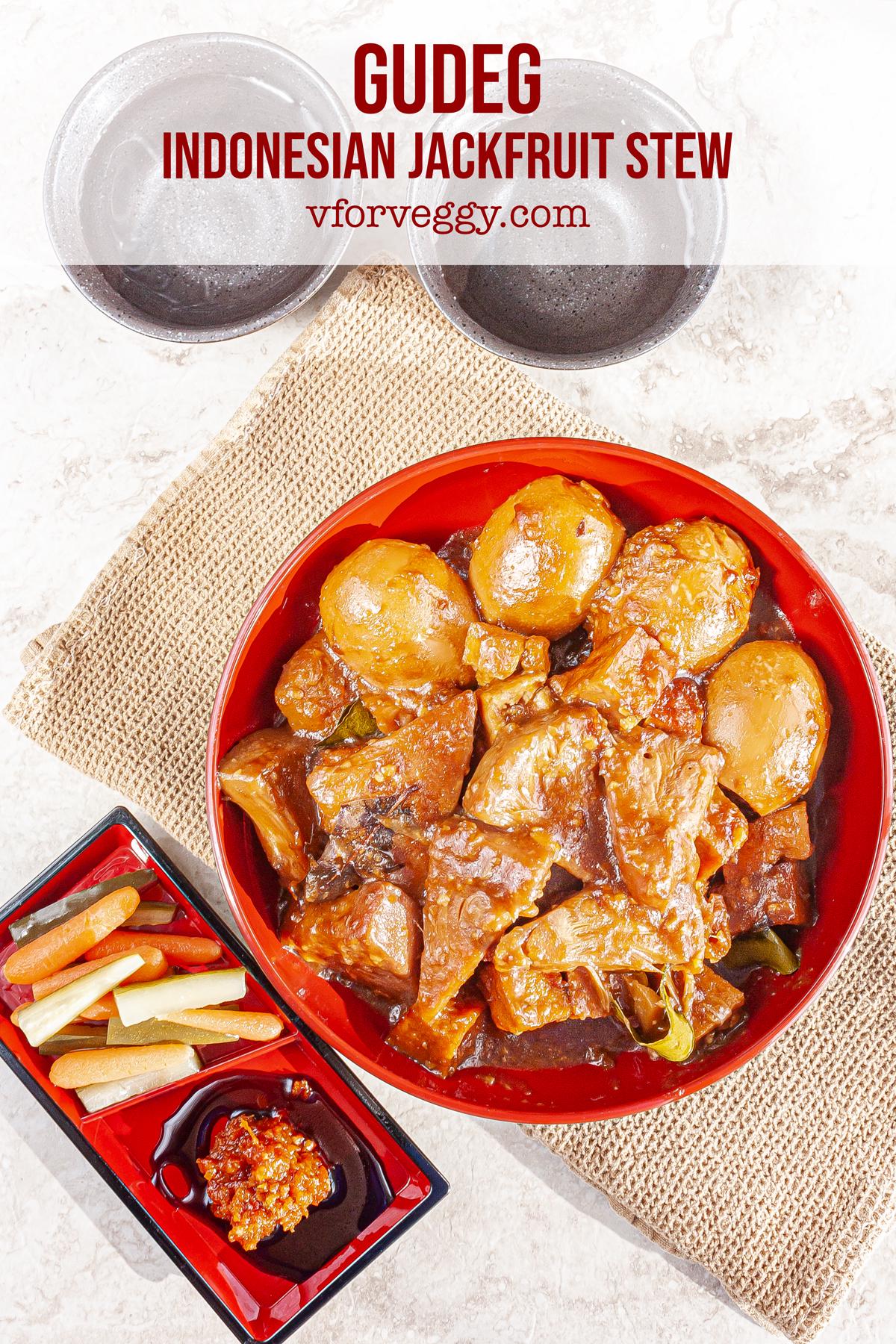 The long list of spices and herbs
Like most Indonesian dishes, you do need quite a bit of spices and herbs to make gudeg. Must haves include: palm sugar, coriander powder, candlenuts (or macadamia), galangal, kaffir lime leaves, lemongrass, coconut milk, shallot (or onion), garlic, and salt. Traditionally, we also add daun salam (Indonesian bay leaves) daun jati (teak leaves), which can be difficult to procure outside Indonesia. Most people substitute the daun jati with teabags, shallot leaves, or simply omit this ingredient. As for daun salam, it is best to just omit if you cannot find any.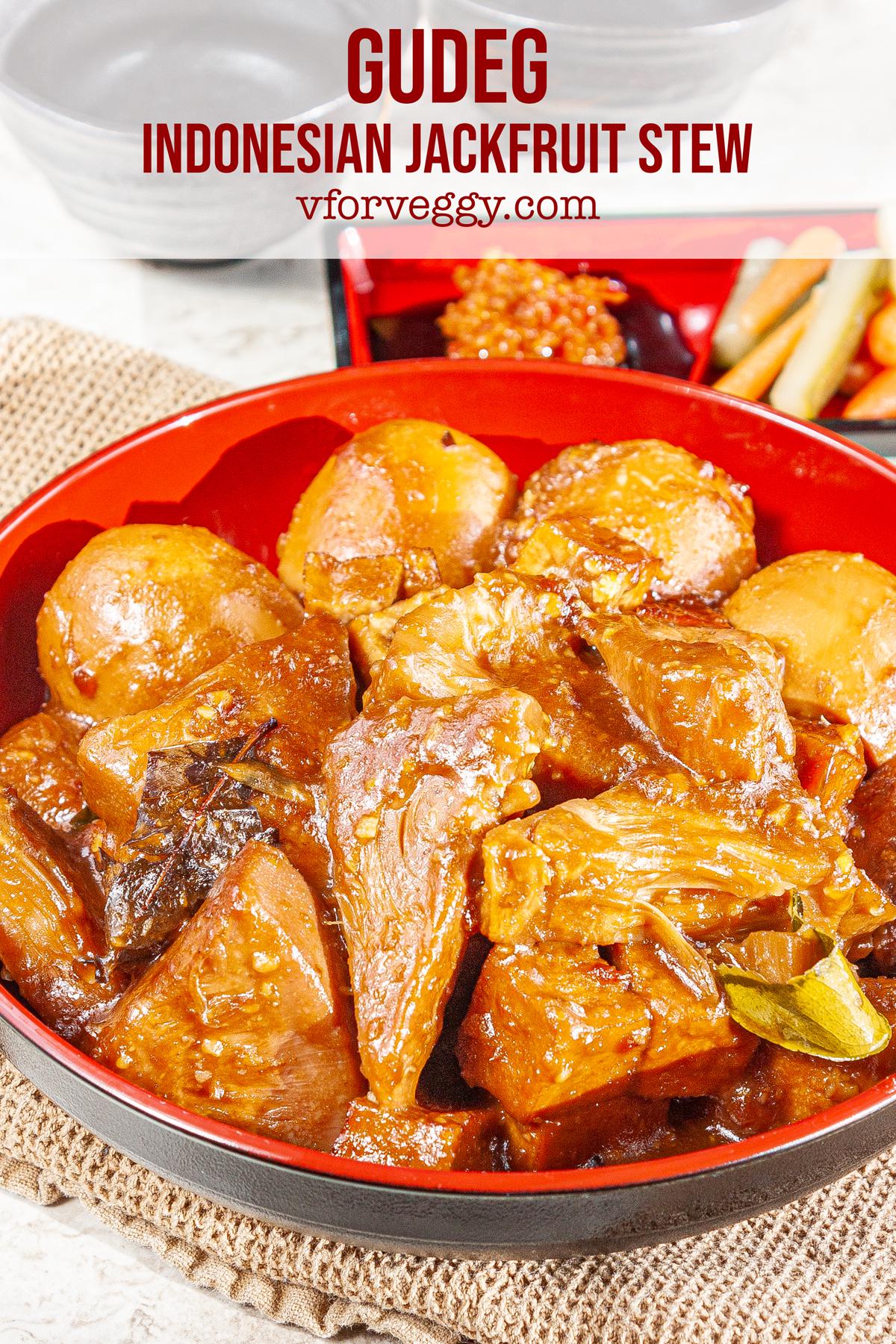 Gudeg - Indonesian Jackfruit Stew
4.8 from 5 reviews
Ingredients
6 bay leaves (Indonesian: daun salam), optional
3 kaffir lime leaves (Indonesian: daun jeruk)
1 inch galangal (Indonesian: lengkuas), bruised
2 lemongrass (Indonesian: sereh), bruised and knotted
1 tea bag of black tea, optional
75 gram palm sugar (Indonesian: gula Jawa) (*)
1½ teaspoon salt, or to taste
1 can (400 ml) coconut milk
400 ml water, or just enough to submerge
1 can (20 oz.) young jackfruit
4-6 hard-boiled eggs
1 block (14 oz.) firm tofu, cubed and deep fried
Spice paste (grind the following together)
50 gram shallots
4 cloves garlic
8 candlenuts (~ 16-20 macadamia)
1 teaspoon coriander powder
Instructions
Place everything into a soup pot, except hard boiled eggs and deep fried tofu. Stir, and also make sure that everything is submerged (you can add a bit more water if need be), and bring to a boil.
Reduce heat, add hard boiled eggs and deep-fried tofu cubes, and simmer on the lowest heat setting possible until all liquid is fully absorbed by the jackfruit, eggs, and tofu. Stir every 30 minutes or so. This process should take about 3-4 hours.
Turn off heat, adjust seasoning as needed, some people really like their gudeg to be on the sweet side. Remove all the leaves. Transfer to a serving plate and serve warm or at room temperature.
Notes
(*) If using Thai palm sugar, you may want to also add 3-4 tablespoon of Indonesian sweet soy sauce (kecap manis).