Home / All Recipes / Chinese / Chinese Hot and Sour Soup
Chinese Hot and Sour Soup
This classic Chinese hot and sour soup recipe is quick and easy, with big bold flavors, and endlessly customizable. Add thinly sliced pork when for omnivores.
Egg drop soup and hot and sour soup are probably the two most popular Chinese soup in the United States, and I prefer hot and sour soup to egg drop soup at any time of the day. My recipe is super simple and straightforward, and you will be able to create Chinese restaurant quality hot and sour soup in no time at all.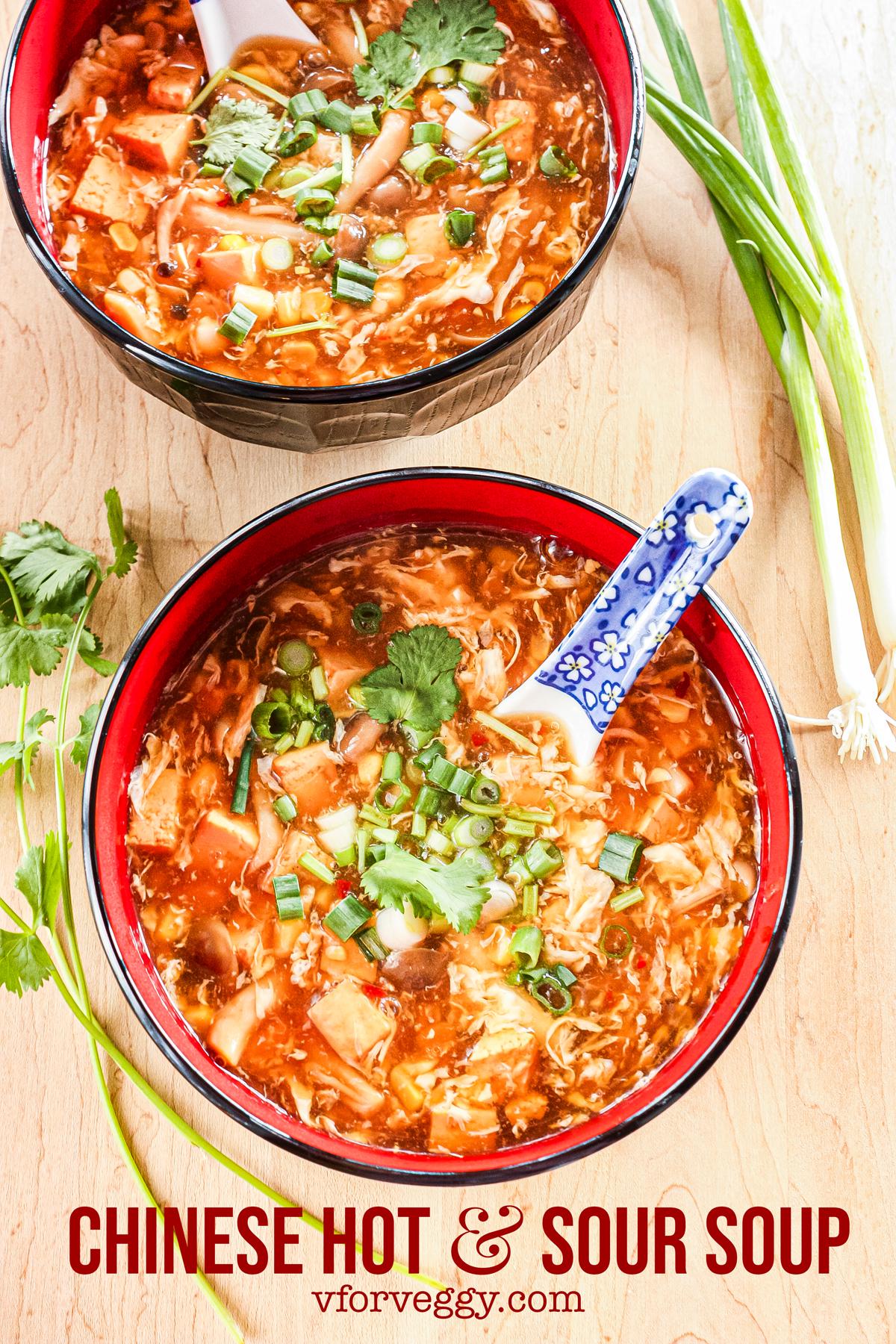 What goes into a classic hot and sour soup?
A classic Chinese hot and sour soup has these ingredients:
stock
Since this is a vegetarian block, I'm sticking to vegetable stock, but you can totally use chicken stock if you wish.
tofu
Use firm or extra-firm tofu. Simply cut them into little cubes to add to the soup.
mushrooms
My favorite is dried shiitake, rehydrated in cold water overnight, and then using the soaking water as the main stock! Fresh shiitake, baby bella, or button mushrooms work too, but not as delicious as dried shiitake.
wood ear mushrooms
Also soaked in cold water to rehydrate if you are starting from dried ones. You may see fresh wood ear mushrooms in some groceries.
dried lily flowers
The flowers will also need to be rehydrated in cold water. Once fully rehydrated, trim off the tough ends, and cut each into two halves.
bamboo shoots
Cut into julienne/matchstick pieces.
soy sauce, black vinegar, ground white pepper, and crushed red chili pepper
These are the main seasoning and flavoring ingredients for hot and sour soup.
cornstarch
This is to thicken the hot and sour soup.
eggs
The whisked eggs will be drizzled into the soup to create egg flowers/ribbons, like an egg drop soup effect.
scallions and cilantro
Added at the very end to garnish the soup.
sesame oil
Added right at the very end to add a nutty flavor to the soup.
pork
It is very common in a hot and sour soup to include thinly sliced porks, so feel free to add that if you are preparing the soup for omnivores.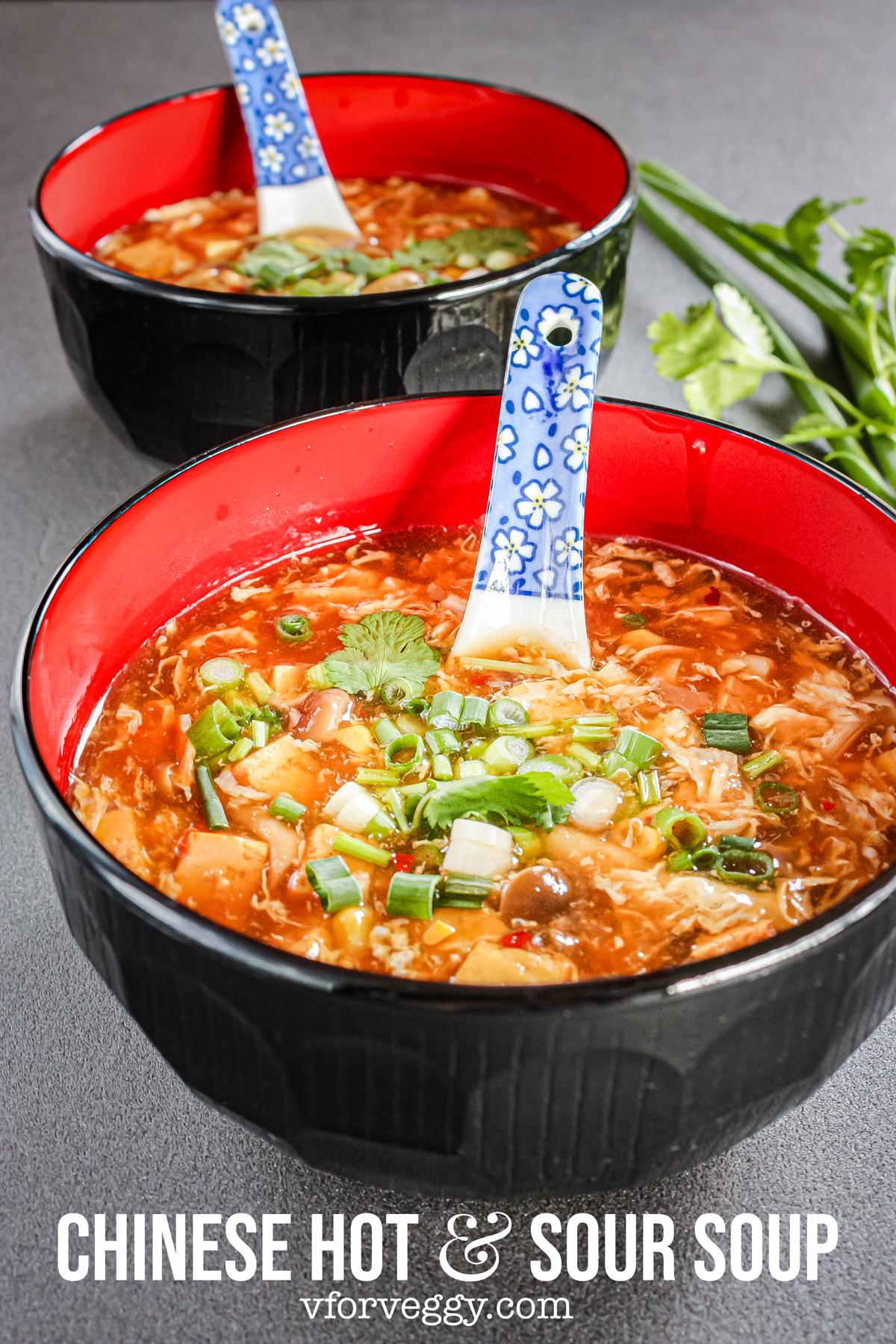 How to customize a hot and sour soup
You don't have to stick to the above ingredients 100% of the time. In the photos, you can see that I added corn and shimeji mushrooms. I was omitting wood ear mushrooms, dried lily flowers, and bamboo shoots from my soup.
Wood ear mushrooms are usually enjoyed for their crunchy texture, and since I already added corns, I decided to skip them.
Dried lily flowers can be hard to find unless your Asian/Chinese market stocks them.
And lastly, not everyone in my family is fond of bamboo shoot, so for me personally, I almost never add this into my hot and sour soup.
As I said, hot and sour soup is really customizable. So feel free to omit some of the traditional ingredients, and add the ones you love instead. :)
Chinese Hot and Sour Soup
5.0 from 10 reviews
Ingredients
5 cup vegetable stock
1 block firm tofu, cut into 1/2 inch cubes
1 pack shimeji mushroom
4 ear fresh corns, kernel only
4-5 tablespoon soy sauce
5 tablespoon black vinegar
1 teaspoon ground pepper
1 teaspoon crushed red chili pepper
6 tablespoon cornstarch, or sub with tapioca starch
6 tablespoon water
2 eggs, lightly beaten
1 teaspoon sesame oil
2 scallion, thinly sliced
4 stalk cilantro, thinly sliced
Instructions
In a soup pot, boil together vegetable stock, tofu cubes, shimeji mushrooms, and corn kernels.
Add 4 tablespoon soy sauce, black vinegar, ground pepper, and crushed red chili pepper into the soup. Taste test and add more soy sauce if needed. Cook for 3 minutes.
Mix together cornstarch and water, and pour into the soup. Stir until the soup has thickened, about 2 minutes.
Turn off heat. Slowly pour beaten egg in a thin stream, wait about 5 seconds, then slowly stir so the egg become fluffy like egg drop soup.
Stir in sesame oil, and serve the soup hot garnished with sliced scallion and cilantro.