Home / All Recipes / Chinese / Marbled Tea Eggs
Chinese marbled tea eggs (茶叶蛋) is typically sold as snacks by street food sellers and also at night markets. I once spent close to two years living in Malaysia and this is one of my favorite snack. The eggs are always still stewed in the tea broth and the seller will scoop out the amount you want and you got to peel the eggs yourself. Luckily these eggs are so easy to peel it is pretty much a cake walk compared to peeling regular hard boiled eggs.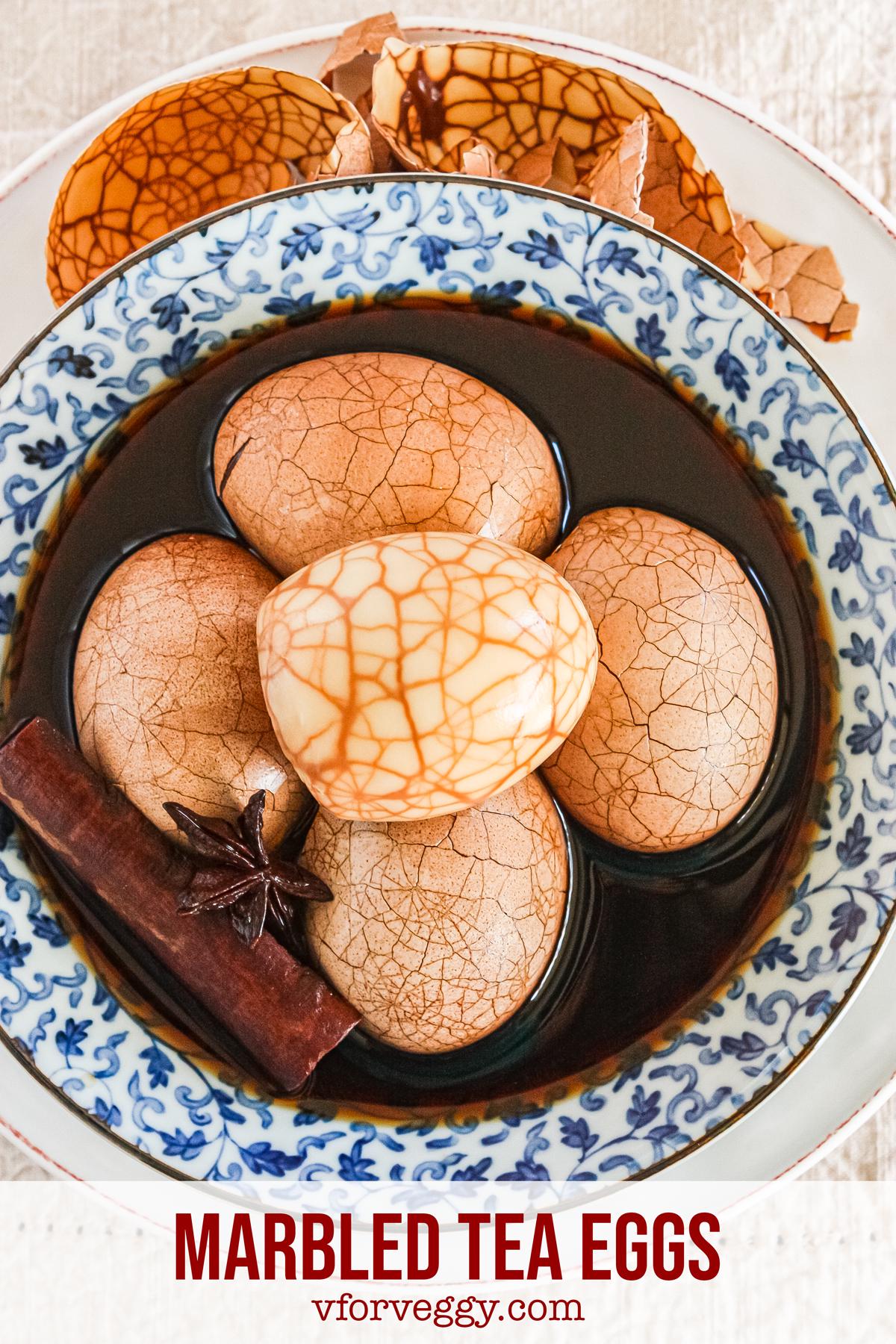 These pretty looking eggs should be simple to reproduce at any kitchen. To make the tea broth, I use 2 teabags of black tea, cinnamon, star anise, soy sauce, and sugar. Simple right? If you want a more complex flavor, use Chinese five spice powder instead of cinnamon and star anise.
Marbled Tea Eggs
5.0 from 6 reviews
Ingredients
8 eggs
2 teabags black tea
1 cinnamon stick
3 star anise
1 tablespoon sugar
1 tablespoon light soy sauce
1 tablespoon dark soy sauce
Instructions
Place eggs in a sauce pot, top with enough cold water to come to an inch above the eggs.
Bring the pot of eggs and water to a boil over a medium high heat, uncovered. Once water boils, remove pot from heat, cover the pot, and let the eggs rest in the hot water for 10 minutes.
Scoop the eggs out from the pot with a strainer/slotted spoon, don't throw away the hot water in the pot. Run the eggs over cold water until they are cool enough to touch with your hands. With the back of a spoon, gently tap the egg shells to create cracks.
Return the eggs along with the rest of ingredients into the pot. Bring to a boil, then reduce to a gentle simmer, cover the pot, and cook for 1 hour.
Turn off heat, but let the eggs rest for at least another hour in the pot before serving.