Home / All Recipes / Chinese / Red Bean Butternut Tang Yuan
Red Bean Butternut Tang Yuan
Celebrate Lantern Festival on the 15th day of Chinese New Year with tang yuan. This butternut version with red bean filling is perfect for festive occasions.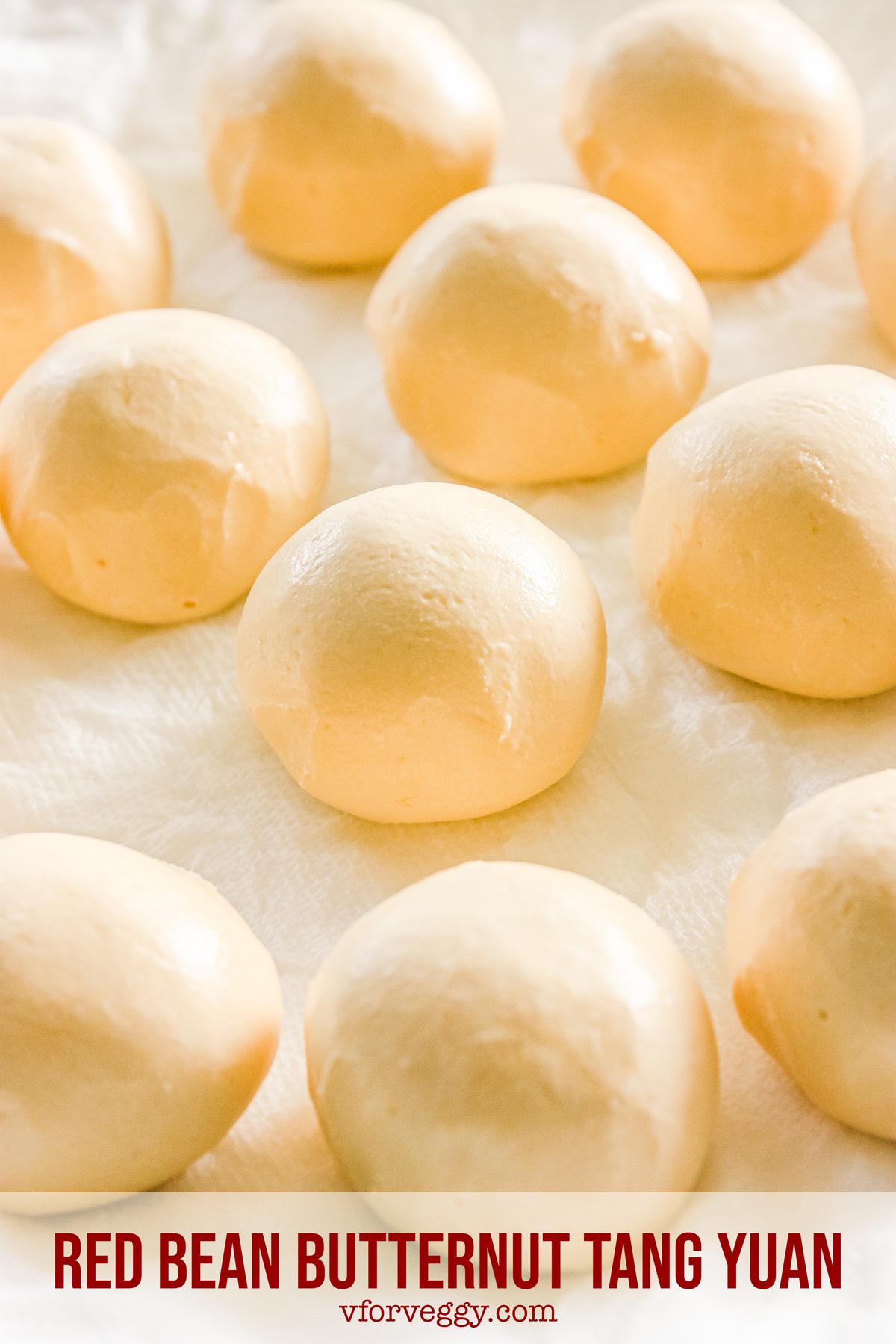 Tang yuan (Chinese sticky rice balls) is a special treat served on the 15th day of Chinese New Year. It is known as Lantern Festival and is a time when most family members gather together for a reunion dinner.
A basic tang yuan dough is typically plain white, but for special occasions, or when you feel slightly adventurous, you can infuse some bright color to it by mixing it with a puree of your choice.
Here I choose to mix it with some cooked and pureed butternut squash. The dough may look pale yellow prior to cooking, but once these dough balls are cooked, the color will turn into a much brighter yellow, almost like egg yolks.
How much water is needed to knead tang yuan dough?
The amount of water needed to knead the dough will depend much on the water content of your puree.
For this particular batch of dough, I needed 300 gram glutinous (sticky) rice flour, 150 gram cooked and pureed butternut squash, and slightly more than half a cup of water to reach a nice texture for the dough.
If I make it another time, even when I stick to butternut squash, I may need slightly more or slightly less water.
The important thing to remember is to add just enough water to make the dough not sticking to the sides of the mixing bowl, the texture should resemble your earlobe, and it shouldn't be too dry so they don't crumble when you scoop out a portion to shape and fill with filling.
For beginners, or when you are making tang yuan outside of festive occasions, it is okay to leave out the filling, so just shape the dough into round balls and cook. You may want to increase the sweetness of the ginger syrup if you make non-filled tang yuan.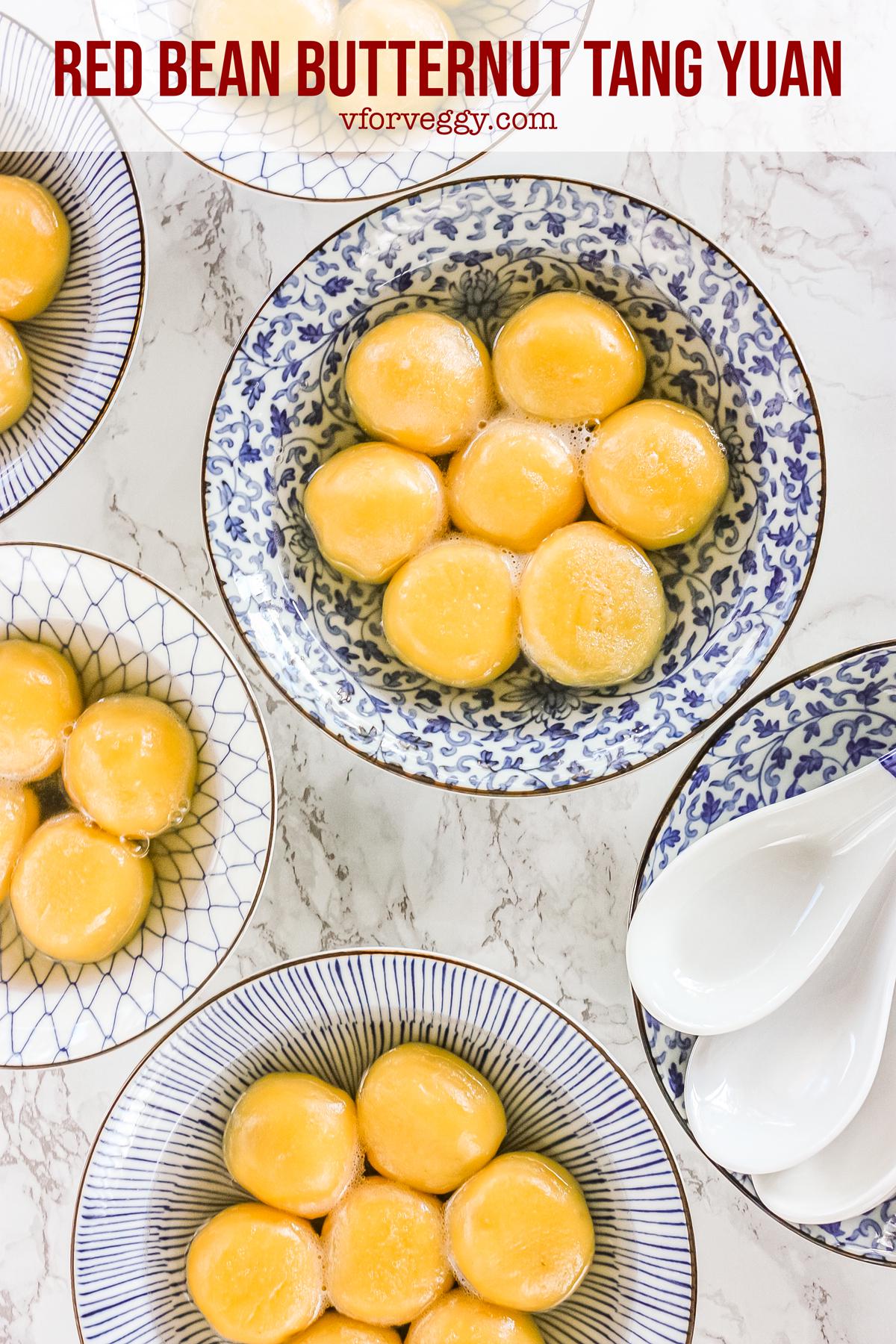 How to prepare the filling for tang yuan
The trick to ease with wrapping the filling neatly with tang yuan dough is to make sure the filling is chilled.
Once chilled, prepare a tray lined with parchment paper, scoop out a teaspoonful of chilled filling, shape it into a round ball, and place on the prepared tray. Place the tray into the fridge to chill again until the balls have hardened, maybe about one hour.
The chilled balls will be so easy to work with, and you should have a much easier time to wrap tang yuan dough around them.
If at any time you find that the filling starts to become hard to work with, quickly chill them again in the fridge.
I use red bean paste for the filling, you can use other filling too such as black sesame paste.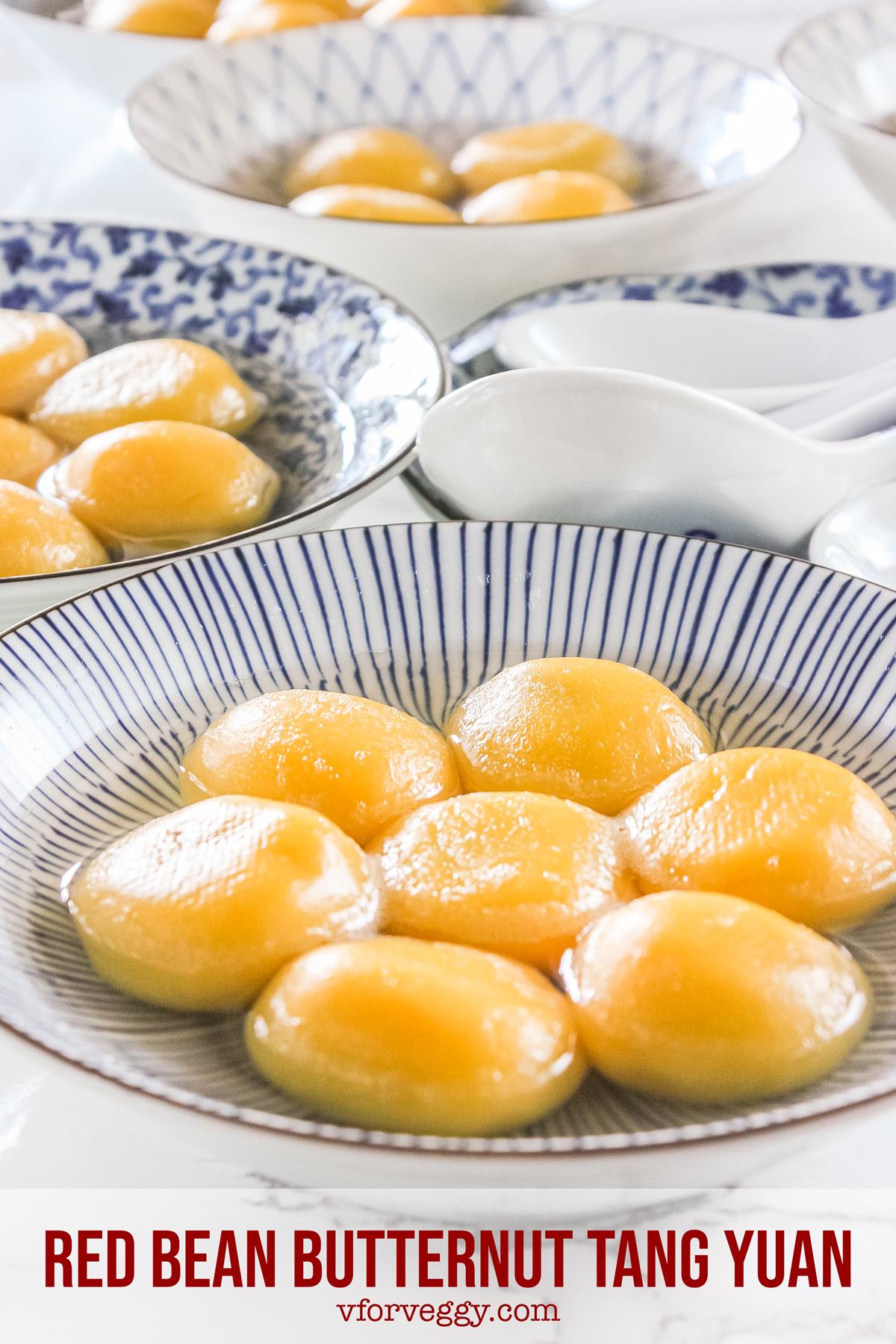 Red Bean Butternut Tang Yuan
5.0 from 4 reviews
Ingredients
Red Bean Paste
40 gram azuki bean
1/4 cup sugar
2 tablespoon butter
Sweet soup
1000 ml water
200 gram ginger, peeled and bruised
4 pandan leaves (optional), knotted
150 gram sugar
Butternut Tang Yuan
300 gram white glutinous (sticky) rice flour
150 gram cooked and pureed butternut squash (*)
1/2 cup water (**)
Instructions
Red Bean Paste

Wash and drain azuki bean. Place the beans in a pot. Add enough water to top the beans by another 2 inches.
Bring to a boil, cover the pot, reduce heat to a simmer and cook until all the liquid has evaporate, at which time the beans should have become soft and crumbling. If not, add a little more water and continue cooking until the beans are soft and crumbling. Remember that there shouldn't be any water left since we want to make this into bread filling.
Transfer the cooked beans into a food processor/blender. Puree into a smooth paste.
Return the paste back into the pot. Add sugar and butter.
Turn the heat on, stir and cook until all the sugar and butter has dissolved and incorporated into the beans. Transfer into a mixing bowl and chill.
Once chilled, scoop out teaspoonful of red bean paste and shape into tiny ball. Place on a parchment paper lined baking tray. Repeat to get 30 red bean paste balls. Place the tray in the fridge to chill again. Store any leftover red bean paste for future.

Sweet Soup

Add all ingredients in a pot and bring to a boil. Reduce heat and simmer for 15 minutes.
Turn off heat and strain to get a clear syrup. Divide into 10 serving bowls. Set aside.

Butternut Tang Yuan

Place glutinous rice flour and butternut puree in a mixing bowl. Pour water in batches and knead with your hands until the dough come together into a play dough (earlobe) like consistency. You may need slightly more or less water. Divide the dough into 30 portions.
Work each portion into a disc, place one red bean paste filling at the center. Seal. Then, gently roll into a ball. Repeat for the rest of the dough. You may want to cover the balls with a dampen towel to prevent them from drying.
Bring a pot of water to boil. Gently drop the tang yuan into the boiling water and cook until they float to the surface. Once they float for about 1 minute, remove with a slotted spoon and place into the prepared serving bowls (3 per bowl). Serve immediately.
Notes
(*) You can also use pumpkin or kabocha to achieve the same yellow color.
(**) May need more or less depending on water content of the puree.