Home / All Recipes / Chinese / Red Bean Steamed Buns
Red bean steamed buns (豆沙包; dou sha bao) is one of my most favorite Chinese steamed buns. The fluffy soft white buns and the sweet red bean paste work together creating one of the most delectable bread, perfect for breakfast or tea time snacking. With this easy recipe, you can prepare delicious steamed buns in your kitchen.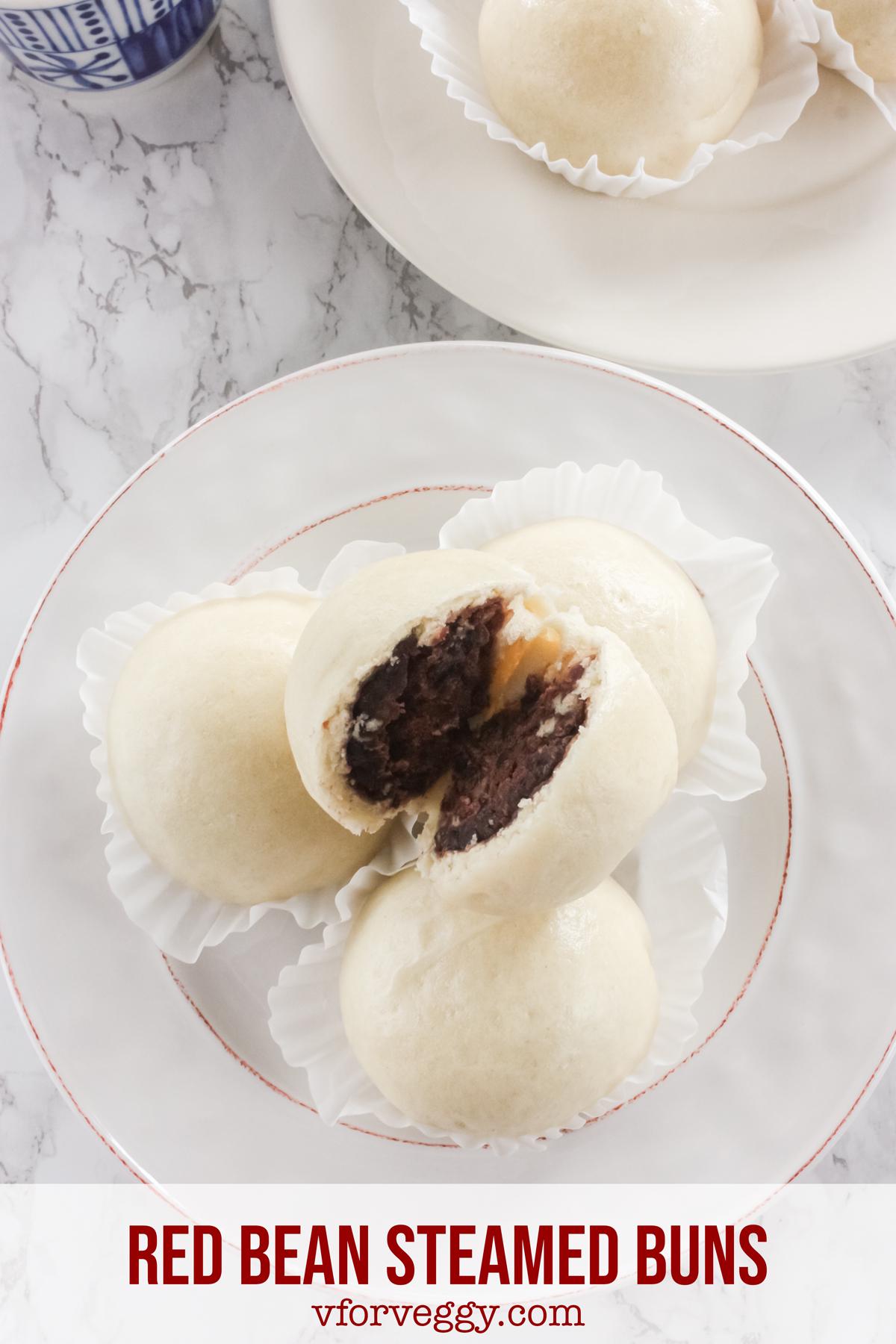 Sweet red bean paste filling
It is best if we start by making the red bean paste filling. You can choose between either the Chinese red bean paste like the one for red bean bread or Japanese red bean paste.
The main difference is Chinese incorporate fat into the red bean paste (traditionally lard, but you can use shortening, or butter for convenience), while the Japanese red bean paste doesn't include any additional of fat, just a simple mixture of red bean, water, and sugar.
For simplicity, in this recipe, I choose to use Japanese style red bean paste. You can make the red bean paste filling a day in advance so the paste has enough time to chill. It is so much easier to shape the bun later on with a chilled paste.
If you follow the recipe below to make the red bean paste, you should end up with more than enough filling to make the buns, maybe about double the amount needed. If you want to make just enough for one batch, feel free to cut the red bean paste recipe in half.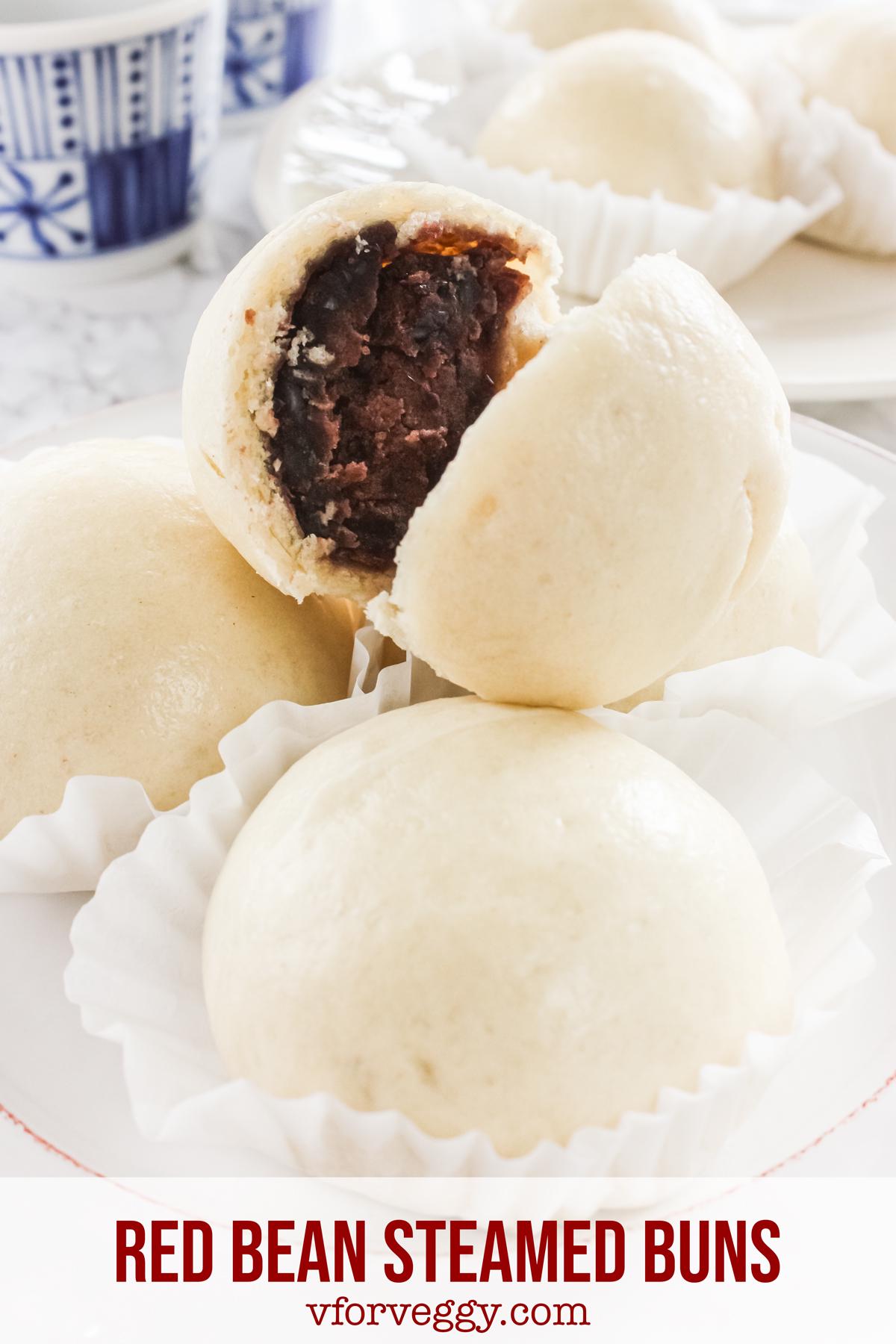 Bleached vs. unbleached all-purpose flour
I use unbleached all purpose flour for the dough, and this means the color of my steam bun skin is not snowy white like the ones served in dim sum. To get that snowy white color, you need to use bleached all purpose flour, but as you can see from the photos, the slight off-white color of the skin is not bad.
This recipe will yield 12 buns, but don't worry if you cannot finish the whole batch in one go. You can freeze the leftovers. Simply steam (or microwave) until the buns are soft and fluffy again. Always serve the buns hot since they are not as delicious once cold.
Red Bean Steamed Buns
5.0 from 2 reviews
Ingredients
Red bean paste filling
300 gram red bean
300 gram sugar
1 1/2 tablespoon honey (optional) (*)
a pinch of salt
Steam buns skin
150 ml warm water (38 Celsius or 100 Fahrenheit)
1 1/2 teaspoon active dry yeast
1 1/2 tablespoon sugar
300 gram all purpose flour
1 1/2 teaspoon baking powder
1 1/2 tablespoon oil (or 2 tablespoon unsalted butter) (**)
Instructions
Red bean paste filling

In a pot, soak well rinsed red beans in ample of fresh cold water for at least 8 hours or overnight. Heat until boiling, add 4 cups of water. When it boils the second time, drain in a sieve.
In fresh cold water, boil beans again until tender and slightly fall apart. Add water so that liquid always covers the beans by about 1 inch while cooking. Drain again in a sieve.
Transfer beans back to a pot, add sugar, and mix well. Cook over low heat and stir gently.
Add honey, and mix well. Add a pinch of salt, stir lightly, and remove from heat.
Mash with the side of a spatula or a potato masher. Chill until needed.

Steam buns skin

Mix together warm water with active dry yeast and sugar. Set aside until foamy, about 15 minutes.
Sieve together all purpose flour and baking powder in a mixing bowl. Make a well and pour the yeast solution and oil. Knead until the dough is non-sticky, soft, and elastic. Hand kneading is about 20 minutes, with electric mixer is about 10 minutes.
Place the dough in a mixing bowl, cover with a wet kitchen towel/saran wrap. Let the dough proof until volume is doubled, about 1 hour in a warm kitchen.
Punch the dough to release air bubbles, knead again for a couple of minutes. Divide the dough into 12 equal portions.

Red bean steamed buns

Roll a piece of dough into a flat circle of about 4 inch diameter, and try to make the outer 1" edge thinner than the inner portion.
Place one medium ice cream scoop worth of red bean paste filling on the center of the dough (about 1 1/2 tablespoon), then gather the edges and close the seam tightly to fully enclose the filling inside the dough. Place on a cup cake liner.
Repeat for the other 11 portions.
Heat a steamer on medium high heat. Steam the red bean buns for 12 minutes, then turn the heat off, and let the buns rest inside the hot steamer for another 5 minutes. Remove buns from steamer and serve immediately. If your steamer is small, you may need to steam the buns in batches.
Notes
(*) Skip honey for vegan.
(**) Use oil for vegan.