Home / All Recipes / Chinese / Spicy Garlic Soy Sauce Zucchini Stir-Fry
Spicy Garlic Soy Sauce Zucchini Stir-Fry
You need a quick dish you say? How about this super easy spicy garlic soy sauce zucchini stir fry?
While you can still grab zucchini before summer ends, you need to give this stir fry dish a try.
It takes about 10 minutes prep work and 10 minutes cooking time, and I am sure most people need even less than that!
So while the heat waves continue, you can be in and out from the kitchen in a jiffy.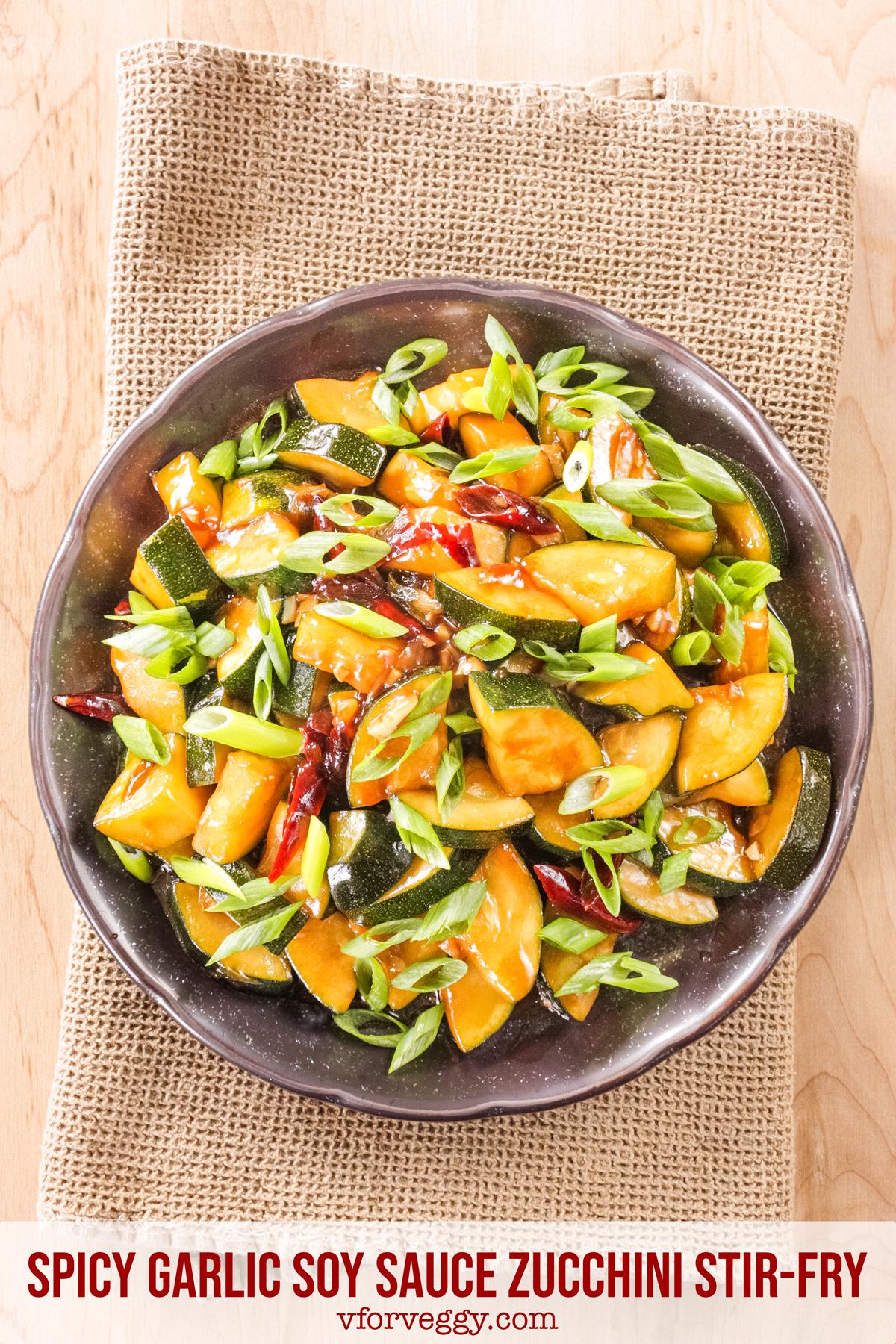 What if I don't have zucchinis?
Here in the States, zucchini is so common that it is unthinkable that one hasn't seen and eaten plenty of zucchini dishes.
Where I grow up in Indonesia, zucchini is something most people haven't even heard of, let alone try.
So don't worry if you can't get a hold of zucchini. You can use eggplant instead! I also highly recommend using firm tofu for tofu lovers, preferably fried tofu cubes.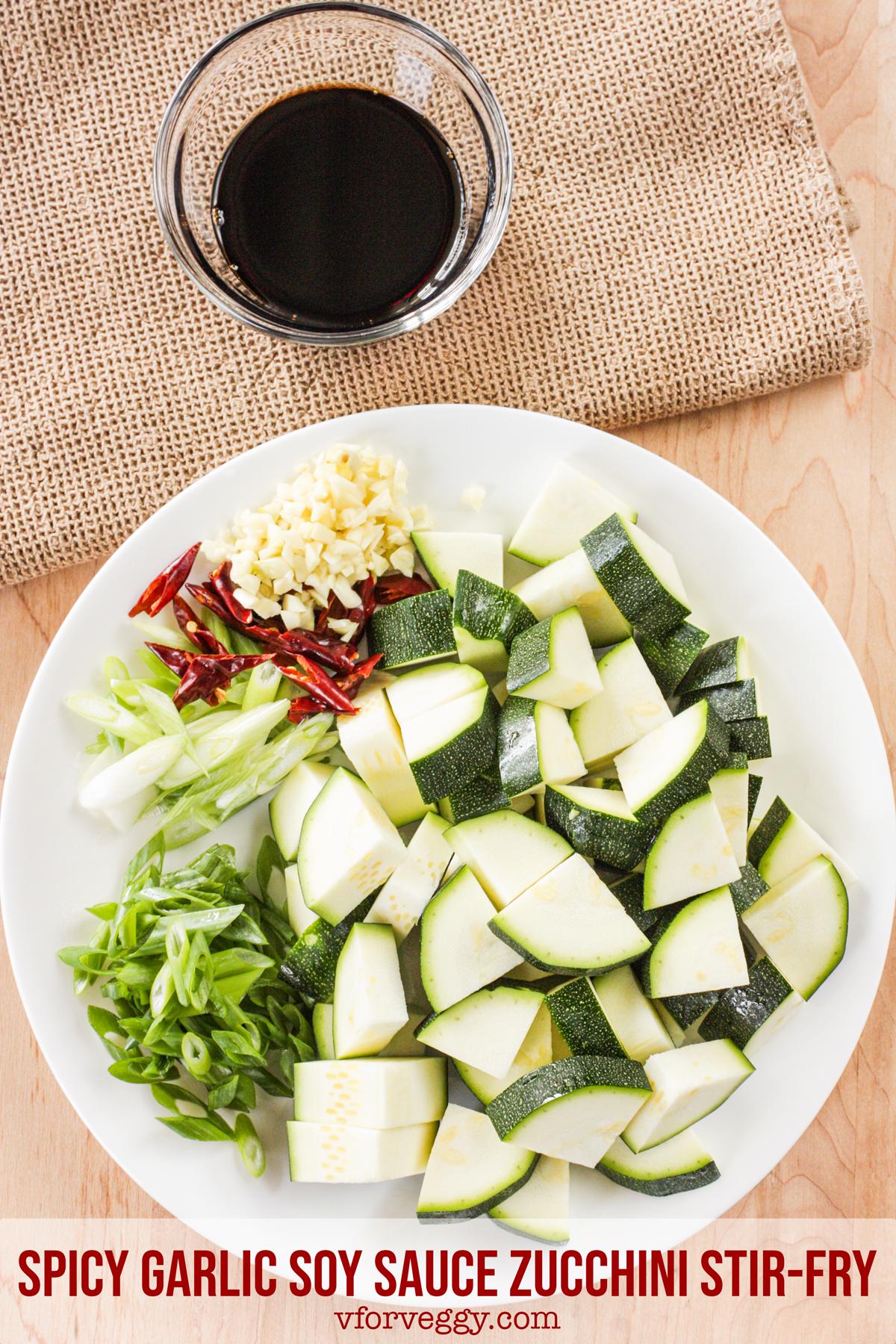 What's in the sauce?
This is a simple sauce for a quick Chinese stir fry.
You need soy sauce, Shaoxing wine, and Chinese black vinegar.
For Chinese dishes, I prefer using Chinese brand soy sauce, such as Pearl River Bridge superior light soy sauce. If all you have at home is the one from Kikkoman, you can use that too.
A good Shaoxing wine has no salt content, but you probably need to have access to Asian market, which if you do, my favorite is Pagoda Brand Shaoxing wine.
And as for Chinese black vinegar, the one I use is from Koon Chun.
These are the sauces I use just in case you need recommendation. Feel free to use your favorite ones!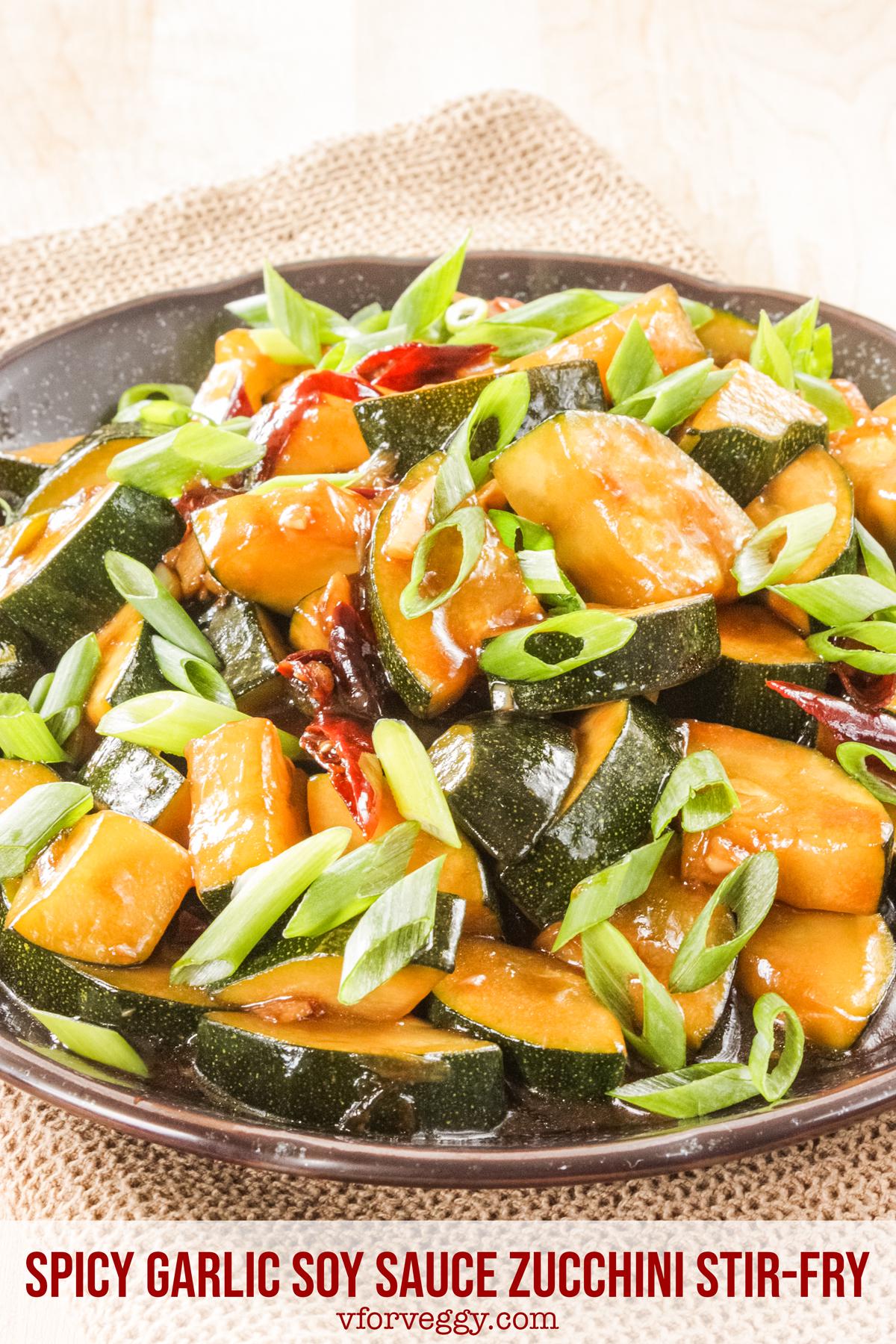 Spicy Garlic Soy Sauce Zucchini Stir-Fry
5.0 from 1 reviews
Ingredients
2 tablespoon oil
4 cloves garlic, minced
2 scallions, separate white from green parts, thinly sliced
5 dried red chilies, seeded and roughly chopped
450 gram (~ 1 lb.) zucchini, cut into bite size wedges
2 tablespoon soy sauce
1 tablespoon sugar
2 tablespoon Shaoxing wine
1 tablespoon Chinese black vinegar
corn starch slurry (1 teaspoon corn starch + 2 teaspoon water, mix well)
1 teaspoon sesame oil
Instructions
Heat oil in a frying pan over medium high heat. Once oil is hot, sauté garlic, white parts of scallion, and red chilies until fragrant, about 1 minute.
Add zucchini into the pan, stir to mix well, and cook for 2-3 minutes, until the zucchini is tender but still crispy.
Mix together soy sauce, sugar, Shaoxing wine, and Chinese black vinegar, then pour this sauce mixture into the pan. Gently toss to coat the zucchini.
Once the sauce boils, add in corn starch slurry and keep stirring until the sauce is thick.
Turn off heat, add sesame oil and half of the green part of scallions, and toss gently.
Transfer the zucchini to a serving plate and garnish with the rest of the green part of scallions.