Home / All Recipes / Chinese / Sticky Rice Cake with Red Bean Paste
Sticky Rice Cake with Red Bean Paste
The earliest memory of Chinese snacks that I have is probably this sticky rice cake with red bean paste and egg tart. Both are almost guaranteed to be found in any respectable dim sum menu, but more interestingly, both are widely sold in almost any market that sells snacks in Indonesia.
The Chinese name for this snack is jian dui (煎堆), but Indonesian call this onde-onde. They are more commonly found in round shape and deep fried, but I am intrigued with the possibility of pan frying, so the flattened shape makes more sense to me since this will cook up nicely and evenly on a non-stick pan or a well seasoned skillet.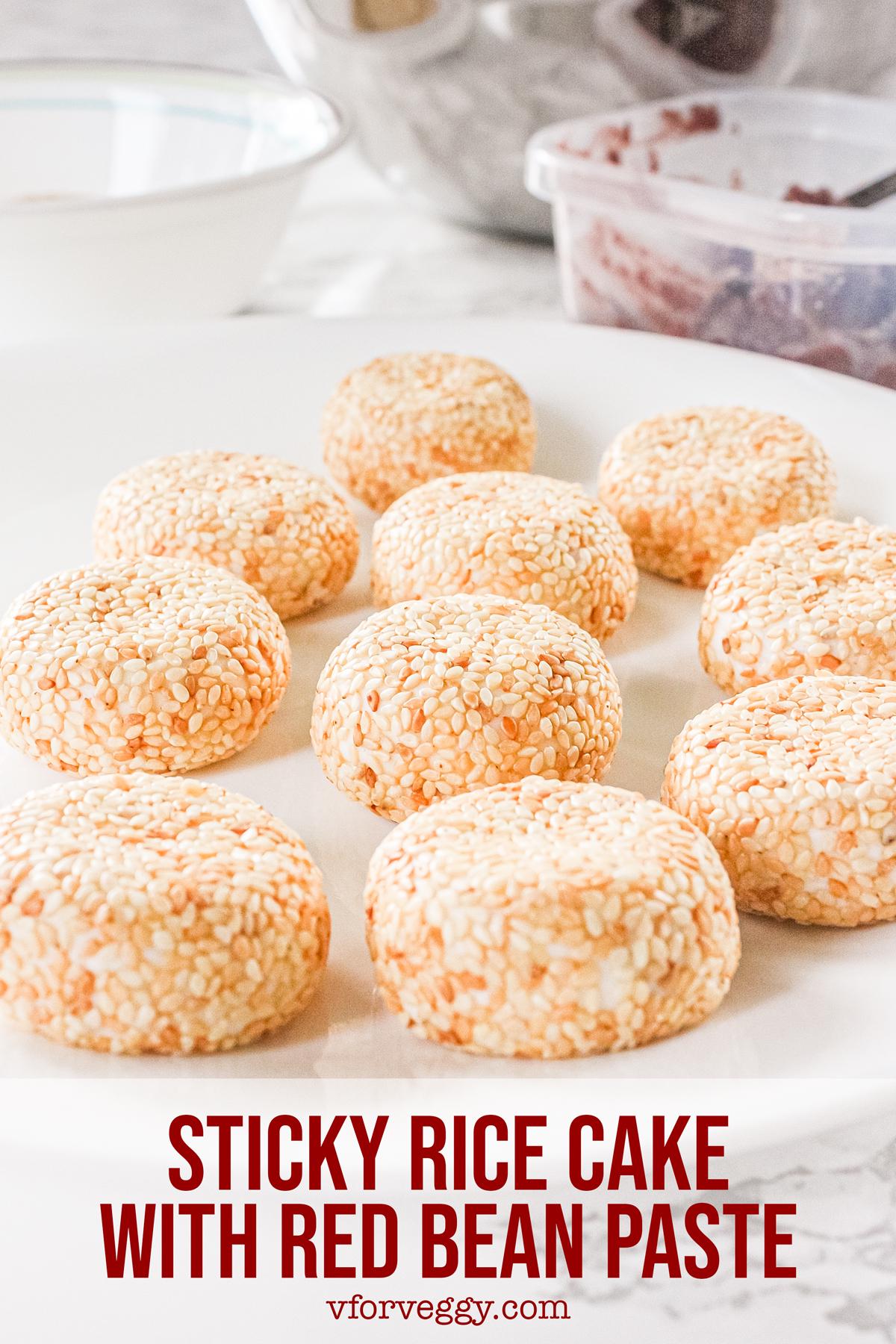 Sticky rice cake dough with mashed potatoes
The dough that I use has a mixture of mashed potatoes in it, and I realize this is probably not a common treatment outside of Indonesia, so if you want to skip it, just sub with even more sticky rice flour.
The most important thing about sticky rice dough is to keep adding water, a little bit at a time, and knead until the dough is not sticking to the sides of the bowl and its texture is similar to your ear lobe.
We usually cover the dough with a wet kitchen towel to prevent it from drying while shaping the cakes, but if at any time you find the dough starts to become dry and crumbles easily, just add a teaspoon of water at a time to the dough and knead again until the texture is to your liking.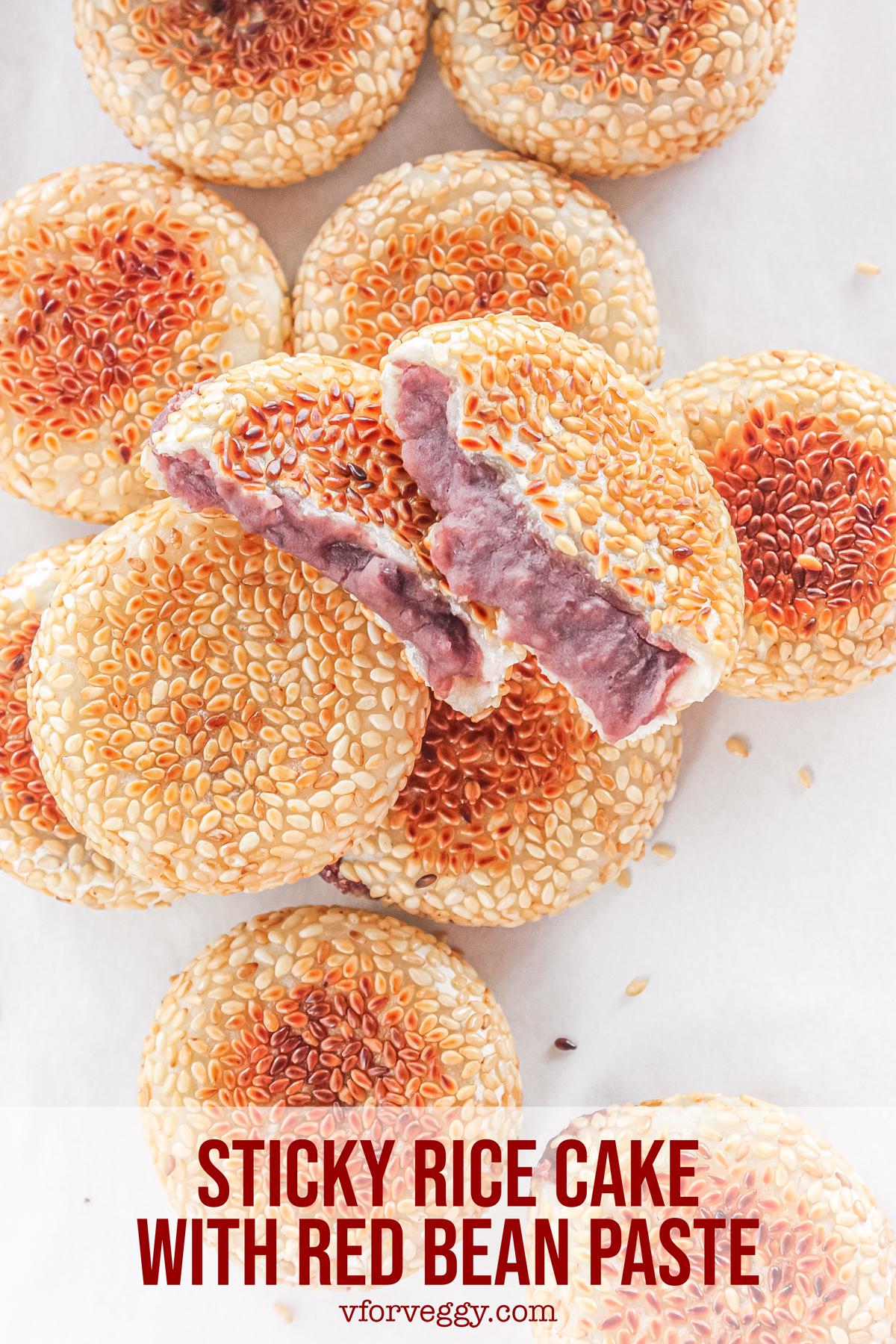 Red bean paste filling
The filling is almost always some sort of sweetened paste. I use red bean paste since I never get tired of them and also because I still have some left from making red bean bread.
Another equally popular filling is mung bean paste, though this filling is probably not very common outside of Indonesia. Basically you can use the same recipe for the red bean paste but simply sub with hulled mung beans.
If sweetened bean paste is not your favorite filling, you can even try paste from nuts and seeds such as sesame seeds and lotus nuts.
Regardless of your choice for the filling, the rest of the steps should be the same, so feel free to experiment and find out your dream filling.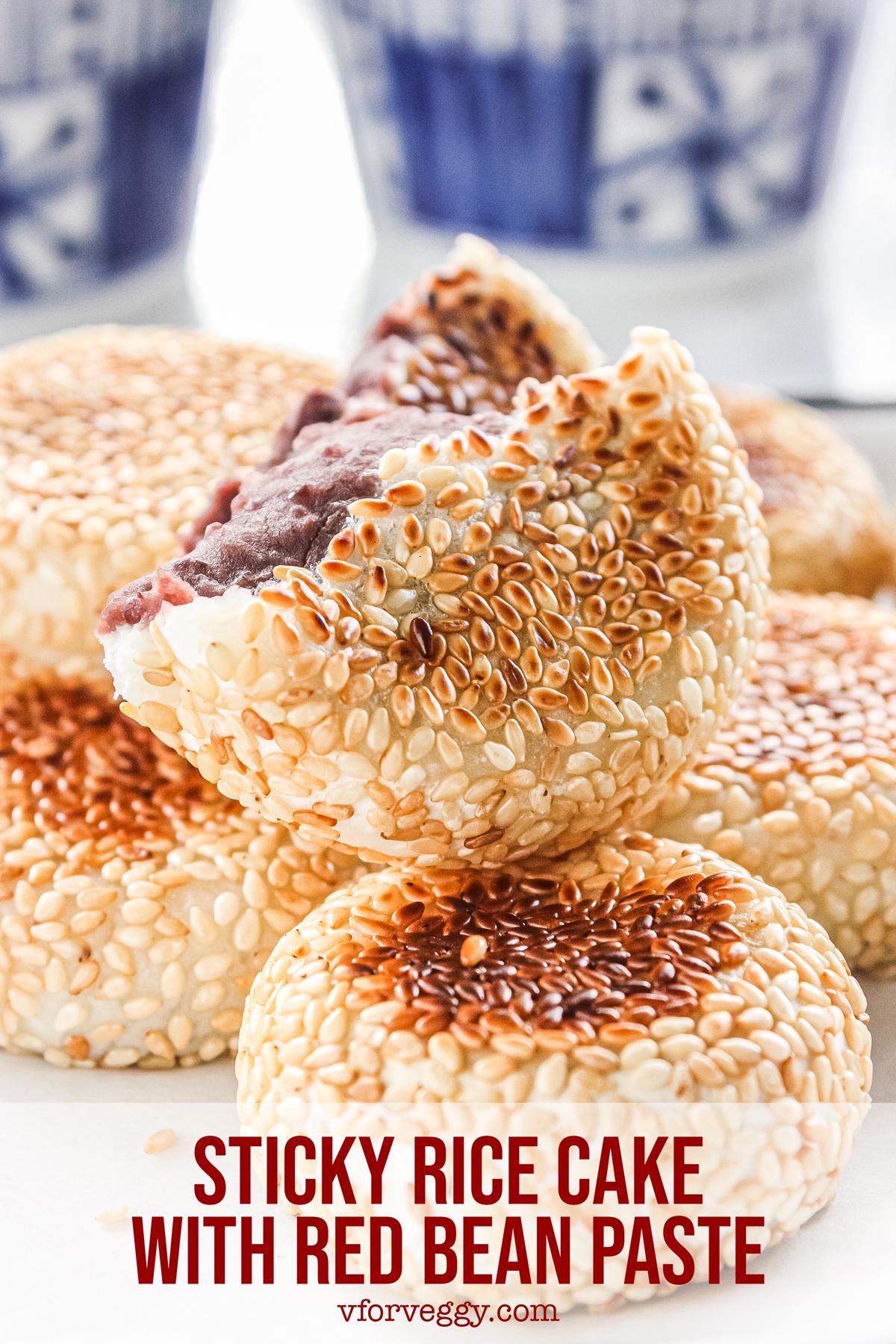 Shaping and filling the rice cakes
When I was shaping my dough and filling it with red bean paste, I came up with a neat way to encase the filling.
So I take a portion of dough (20 gram exactly because I am OCD like that), divide into two, shape each into a round ball and flatten into a round disc.
So I have two flat round discs, I place a teaspoon of red bean paste onto the center of a disc, and top it with another disc, in essence, I am sandwiching the filling between two round discs.
Next, I seal the edges of the top and bottom discs, so the filling is neatly encased between the dough.
Finally, I gently shape the cake into a flat disc and toss the entire thing with toasted sesame seeds.
I am happy with this trick, so if you have trouble with the normal way of encasing the filling in a sticky rice dough, just follow my steps. ;)
Sticky Rice Cake with Red Bean Paste
4.8 from 6 reviews
Ingredients
Red Bean Paste
125 gram azuki bean
3/4 cup sugar
6 tablespoon butter
Sticky Rice Dough
250 gram white sticky (glutinous) rice flour
50 gram mashed potato (*)
50 gram powdered sugar
1/2 teaspoon salt
enough water to knead the dough
1/2 cup toasted sesame seeds, for coating
Instructions
Red Bean Paste

Wash and drain azuki bean. Place the beans in a pot. Add enough water to top the beans by another 2 inches.
Bring to a boil, cover the pot, reduce heat to a simmer and cook until all the liquid has evaporate, at which time the beans should have become soft and crumbling. If not, add a little more water and continue cooking until the beans are soft and crumbling. Remember that there shouldn't be any water left since we want to make this into bread filling.
Transfer the cooked beans into a food processor/blender. Puree into a smooth paste.
Return the paste back into the pot. Add sugar and butter.
Turn the heat on, stir and cook until all the sugar and butter has dissolved and incorporated into the beans. Transfer into a mixing bowl and chill until needed.

Sticky Rice Cakes

Place sticky rice flour, mashed potato, sugar, and salt in a mixing bowl.
Slowly add water to the bowl and knead into a soft, smooth, and non-sticking dough. The texture should resembles your ear lobe. I use about 1 cup of water, you may need slightly more or less. Be extra careful near the end since even an additional 1 tablespoon of water can make the dough too sticky. If this happens, add another tablespoon of sticky rice flour and knead again to adjust the stickiness. Cover the mixing bowl with a wet kitchen towel to prevent the dough from drying.
Take 20 gram of dough, divide into two and shape each into a round ball and flatten into a round disc. Sandwich a teaspoon of red bean paste filling between the two round discs, and seal the edges by gently pinching the edges of top and bottom dough discs. Gently shape the cake into nice looking round disc cake and coat with sesame seeds. Repeat until the dough is used up.
Heat a tablespoon of oil on medium heat on a non-stick frying pan or a well seasoned cast iron skillet (I prefer the skillet), fry both sides of the cakes until golden brown, about 4-5 minutes each side. Serve hot.
If there are any leftover, reheat them by frying the cakes for 1-2 minutes in a frying pan/skillet on medium heat.
Notes
(*) Optional, you can sub with more sticky rice flour.